Elks National Foundation announces ENFtoYou: Summer Series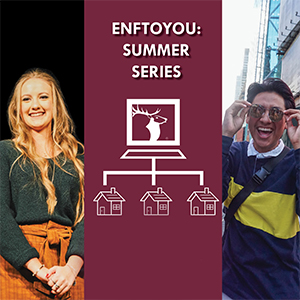 The Elks National Foundation is proud to present ENFtoYou: Summer Series, a virtual experience for Elks to learn more about the ENF and its programs. Since the Elks National Convention was canceled, we're bringing the ENF to you—wherever you are.
We'll bring programming and brand-new content to you every two weeks throughout the summer months, plus opportunities for pop-up sessions, coffee breaks with ENF staff, and so much more. Are you interested? Register here! By registering, you'll receive a digital swag bag to help you get ready for the series; notifications and updates about the types of programming the ENF will offer; and a chance to win ENF prizes. Keep reading for important dates and the topics we plan to cover this summer. We can't wait to bring the ENF to you!
Click here to register for the ENFtoYou: Summer Series
Coming Soon
Come back here Wednesday, July 15, at 12 p.m. Central for the link to the ENFtoYou: Get Social Seminar!
Wednesday, July 15: ENFtoYou: Get Social
On Wednesday, July 15, the Elks National Foundation Communications team will bring you tips and tricks for leveraging social media to promote your Lodge and the ENF. The ENFtoYou: Get Social Seminar will also feature an interview with a special guest, who will talk about how to highlight your Lodge community on social media. Ready to get social? If you haven't registered yet for our Summer Series, click the link above to stay in the know.
ENFtoYou: Summer Series Schedule
Friday, July 17: Take a Break with the ENF—Chat with the Development Team
Head to the Foundation's Facebook page on Friday, July 17 at 10 a.m. Central Time to tune in to a Facebook Live hosted by Development Manager Kate Edsey and Development Coordinator Abbey Knupp.
Send your questions to enf@elks.org. Be sure to include your name and Lodge number so we can give you a shout-out live on Friday!
Sunday, July 26: ENFtoYou: The Two Grands
Past National President Bob Duitsman and National President Paul Ryan join Jim and Debbie to talk about their time on and off the road. Plus, we'll find out more about the next phase of the CIP grants. Tune in here or on the ENF's YouTube channel.
Week of August 9: ENFtoYou: Hoop Shoot Edition
Board Chair Jim Grillo joins the Summer Series again to talk all-things Hoop Shoot.
Week of August 23: ENFtoYou: State of the Foundation
ENF Director Jim O'Kelley recaps the Foundation's year and looks forward to the future.
Catch up on past sessions
ENF to You Premiere
The ENF kicked off the Summer Series on Sunday, June 28, at 5 p.m. CST with a virtual version of the show it would have presented at Opening Ceremonies in Baltimore. The top two Most Valuable Students made remarks among other must-see moments!
---
Back to top