Elks Family on the Front Lines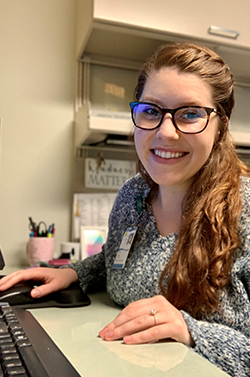 Jaime Graham has always had a weak stomach.
But the 2006 Hoop Shoot National Finalist, sponsored by St. Mary's, W.Va., Lodge No. 1701, always admired those who worked in direct patient care. So, she got her business degree and searched for a behind-the-scenes role in the healthcare field.
Today, as a medical staff coordinator at West Virginia University Medicine Camden Clark Medical Center, Graham handles time-sensitive projects ensuring hospitals and providers comply with state and hospital guidelines. She helps write policies and procedures, too.
But as the COVID-19 pandemic began to take shape in the U.S., her job changed.
"What I normally consider important has been put on the back burner as we just prepare for the unexpected," Graham says. "I've been ready for anything and everything."
She's been facing the unexpected with patience, and she's drawing on lessons from her days at the free throw line. "I think the most valuable thing the Hoop Shoot taught me is we have so many more things in common than we think we do," Graham says. "That has stuck by me through school and now in the workplace—you can always find common ground with someone if you care to look hard enough. It's been encouraging to see how quickly people can come together and work toward a common goal."
Doctors, nurses and healthcare support staff like Jaime have united to fight the pandemic.
Medical students—like Annie Hoang, a 2009 Most Valuable Student scholar sponsored by Bayonne, N.J., Lodge No. 434—are looking for innovative ways to help during the pandemic, since they can't be on the front lines.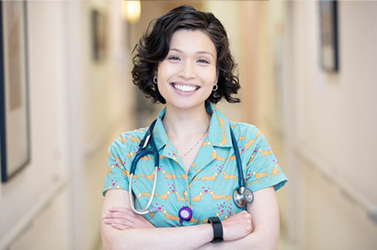 In January, Hoang, a student at University of California-San Francisco School of Medicine, headed into a study period to prepare for a national standardized test. She lived those two months in a quarantine-like existence, not knowing it would continue well-beyond the exam.
"Shelter-in-place took effect just days after my exam, so I felt my day-to-day life in 2020 barely changed," says Hoang.
But it has changed. Before her exam—and the pandemic—Hoang was participating in patient care in hospitals and clinics. In early March, the American Association of Medical Colleges recommended in-person medical student rotations and clinicals be suspended to protect medical students and conserve the already-limited supplies of personal protective equipment.
Hoang was supposed to start a rotation in the emergency department in April, but it was canceled. Now, she doesn't know when she'll be working with patients again.
"Given the PPE shortage and possible surge of patients in the hospital, students are currently sidelined," Hoang says. "Yet, many of us are contributing in the realm of public health, from participating in PPE drives to translating medical information in other languages."
Hoang has volunteered for mock codes—a way to help emergency care providers prepare for worst-case clinical scenarios. And, she continues to advocate for equitable access to clean tap water in San Francisco's underserved neighborhoods through policy change and the installation of hydration stations.
COVID-19 disrupted Hoang's medical education and her opportunity to explore careers and specialties through her clinical rotations, and it's disrupted her family, too. Hoang comes from a low-income background, and her family, who emigrated to the U.S., live across the country in New Jersey. There, her father is an essential worker and her mother has been out of work. Her grandmother lives alone. Hoang calls them every day.
Despite the setbacks, Hoang, who is on a five-year program in Medical Education for Urban Underserved at UC-SF and will start her master's in public health this fall at Harvard—while still in med school—feels the pandemic has solidified her dedication to medicine.
"These times, while hard, only further my conviction that practicing medicine means to serve the most vulnerable and to fight for equity," Hoang says, "especially as we see that during time of crisis, the patients who are most affected—medically, socially and economically—are the same people from the most marginalized parts of our society."
For 2014 Gunther & Lee Weigel Medical School Scholarship recipient and 2009 MVS scholar Lauryn Falcone, sponsored by Enfield, Conn., Lodge No. 2222, the front lines aren't far off.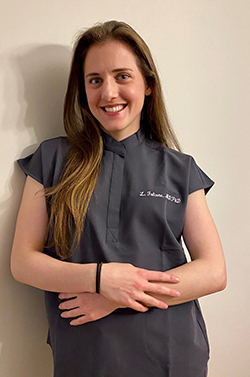 Falcone is nearing the end of her seven-year dual degree program. Soon, she'll earn doctoral degrees from West Virginia University. She starts her residency in internal medicine at the University of Pittsburgh Medical Center in June.
She'll rotate through the emergency room, the general medical wards, the ICU, and some elective clinics.
"I think it's quite normal for anyone to feel nervous prior to entering residency, and that's just compounded with everything happening in the world right now with COVID," Falcone says. Meanwhile, her twin sister is on the front lines every day while completing a residency in emergency medicine, which means she must isolate herself from her entire family and friends—including Falcone, who moved out of the apartment she and her sister shared together.
"She and many other healthcare workers have certainly sacrificed a lot during these times, and that's something we should all be grateful for," Falcone says.
The most encouraging thing for Falcone amidst the pandemic has been watching people rally around healthcare workers and those most at risk. Many people have reached out to her and others to offer homemade PPE or care packages with snacks and kind notes.
"I encourage anyone reading this to reach out to a health care worker, because I can assure you they are working very hard right now, and they are very scared," Falcone says. "But even sending someone a short message to say you appreciate them really goes a long way to make them feel better and brighten their day." For now, Falcone is finishing her classes online, rounding out her time in school.
"I'm not sure I can ever repay the Elks for all they have done for me," Falcone says. "The financial as well as emotional support during my early career played a big part in getting me to where I am today. Thank you for all that you do and for being such strong advocates for students and our community."
To Lauryn, Annie and Jaime, and all the other members of the #ElksFamily helping on the front line and the side lines—thank you.
With nearly 800,000 members and nearly 1,900 Lodges nationwide, Elks are providing charitable services that help build stronger communities across the United States. The Elks National Foundation, the charitable arm of the Benevolent and Protective Order of Elks, helps Elks build stronger communities through programs that support youth, serve veterans and meet needs in areas where Elks live and work. To learn more, visit elks.org/enf.
---
Back to top