Opening the doors to Elks Family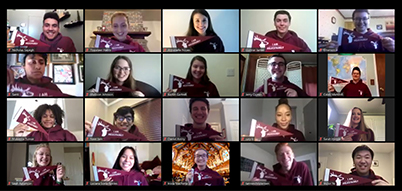 The 2020 Top 20 Most Valuable Student finalists came together for the first time on April 24.
They came from across the country—California to Florida, Utah to Delaware—to share their stories with one another and to interview for the top six awards. At 5:30 p.m. CT, the "doors" opened, and the Zoom meeting flooded with 20 high school seniors, anticipating the weekend to come.
Due to the COVID-19 pandemic, the MVS Leadership Weekend looked different this year; instead of gathering in Chicago, the brand-new Elks scholars gathered virtually. But the socially distanced atmosphere didn't stop the scholars from connecting with one another and forming new friendships with their fellow Elks family.
"This weekend was reaffirming that I'll be able to rely on the Elks family for a long time," said Santiago Alvillar, sponsored by Montebello, Calif., Lodge No. 2051. "If [meeting] was this amazing through this virtual weekend, imagine how amazing it would have been if we were to meet in person."
To start things off, the finalists shared their shields—personal crests to represent themselves. The scholars' shields illustrated their proudest accomplishments, their favorite place, their dreams for the future and their favorite book. Tanner Christensen, sponsored by Provo, Utah, Lodge No. 849, illustrated his love for calligraphy with the group. As he tentatively stated that he felt his skills could be better, the meeting's group chat flooded with messages of support and excitement for his burgeoning talent.
"When I showed my calligraphy, everyone was so nice," Tanner said. "I've never felt so much support in my entire life."
That was the theme of the weekend—a supportive #ElksFamily, no matter the circumstances.
Leading up to the weekend, the scholars got a preview of what being a member of the Elks family means—they watched four films demonstrating just that.
Leah Aaronson, sponsored by Ashland, Ore., Lodge No. 944, connected with "Pillars of the Community," a film from the 2018 Elks National Convention in San Antonio. Leah wrote down a quote from Nathan Miller, a 2014 Top 20 MVS scholar and an Elks Scholar Leader for the weekend: "Making purpose outside of ourselves is how we find ultimate meaning in life."
Nathan's quote resonated with Leah. It made her excited to build relationships with those she now can call family.
"It showed me how many values and ideas I have in common with the Elks," Leah said. "It showed me that now, throughout my life, I'd be able to have these great opportunities to give back and to relate to these important ideas of faith, hope, community and service. It made me so excited to be a part of something greater—to be a part of the Elks."
Saturday morning was the moment the Top 20 had been waiting for—the chance to interview for the top awards of $30,000, $40,000 and $50,000.
They interviewed with a panel of three national judges over Zoom before spending the afternoon together once again. The scholars took part in some Elks trivia, showing off their B.P.O.E. knowledge before discussing the transition to college and what to expect as they embark on a new chapter.
Elks scholar leaders—current and past MVS recipients—met the finalists Friday night and returned to lead scholars in discussion on Saturday. The scholar leaders created a safe space to share personal anecdotes, advice and wisdom, and endless encouragement as the program's resident role models.
Before the weekend ended, the scholars shared their favorite moments of the virtual programming, and what would stick with them the most.
"I really got to see the similarities we have and our connection to service, and also the ways that it's impacted all of us individually," said Neer Jain, sponsored by Katy, Texas, Lodge No. 2628. "We all share the same core values and knowing that is really rewarding. I know in the future I have way more opportunities [to continue to serve going forward] because of this rewarding experience."
When it was over, it wasn't over. Most of the scholars gathered once more for a virtual Elks Family Game Night hosted by ENF Director Jim O'Kelley and 2003 top male Most Valuable Student and current national judge Sean Loosli.
Demonstrating that Elks family is forever, Mark Ansell, the 2015 top male winner, joined the party.
"I decided to volunteer at this year's Leadership Weekend because of the profound positive impact winning the MVS scholarship had on my life in 2015," Mark said. "An important part of the scholarship was the nudge to keep striving and, especially in this challenging time,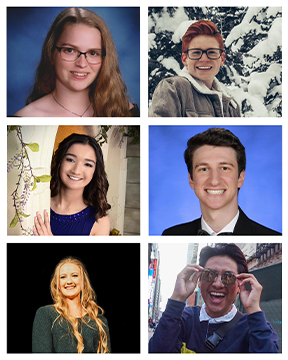 I believe it's important we all do what we can to support the next generation."
At about an hour before dawn, Mark, Sean and one of the scholars finally closed the door on a memorable, if unusual, Leadership Weekend.
We're pleased to announce the 2020 Top Winners.
In third place, Madison Johnson, sponsored by Selbyville, Del., Lodge No. 2173, and Tanner Christensen, sponsored by Provo, Utah, Lodge No. 849, will each receive $30,000 toward their college education. In second place, Irissa Machetta, sponsored by Clear Lake (Kemah), Texas, Lodge No. 2322, and Daniel Ardity, sponsored by Pompano Beach, Fla., Lodge No. 1898, will each receive $40,000. And in first place, the recipients of $50,000 scholarships are Sarah Harper, sponsored by Athens, Tenn., Lodge No. 1927, and Santiago Alvillar, sponsored by Montebello, Calif., Lodge No. 2051. Congratulations to all the MVS Finalists and the 2020 Top Winners!

Watch below to hear Scholarships Manager Colleen Conrad share the good news with the Top Winners.
For 2020-21, the Elks National Foundation allocated $2.9 million to fund the Most Valuable Student scholarship program, which includes 500 four-year scholarships ranging from $4,000 to $50,000. For more information about the Most Valuable Student scholarship program, including eligibility and deadlines, visit enf.elks.org/MVS.
---
Back to top