Join Us for Giving Tuesday Now!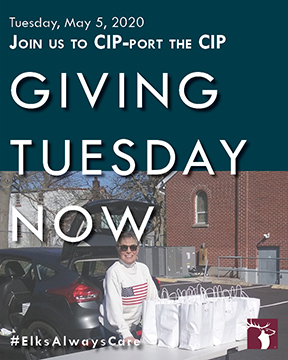 Lodge events might be canceled, but giving back isn't—neither is building stronger communities together. Elks are sheltering in place, but they're far from the sidelines.
Join us on Tuesday, May 5 for Giving Tuesday Now, a day of unity and giving in response to the COVID-19 pandemic. We're calling on Elks who are currently able to consider supporting their communities with a gift to the Community Investments Program to further the work of our grants.
Gifts to the CIP mean more now than ever. Using Gratitude Grants, Elks are stepping up to support their communities where needed most. #ElksAlwaysCare, even in a crisis. Let's keep it going!
Thank you so much for choosing to support us right now! Whether you're a volunteer, donor or advocate, your decision means the world to us, and we don't take it for granted. Want to support ENF grants year-round? You can sign up for a recurring gift designated to the CIP, too!
---
Back to top