Records set and smashed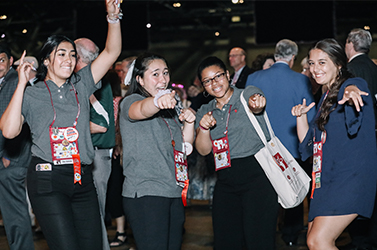 Last year was one for the books, to say the least.
We experienced new highs together, and a new and unexpected low as the COVID-19 pandemic changed our lives. But, while our normal shifted, the generosity of the Elks did not.
Despite everything, the Elks helped break—no, shatter—records.
This year, the Elks helped raise an incredible $6,697,176.55 for the Elks National Foundation, setting an all-time high.
The previous record was set in Fiscal Year 2019, when we reached $6,597,765.11 in donations. During a pandemic, Elks cleared that record by nearly $100,000.
And, that wasn't the only record set. For the first time since we started keeping track in FY1993, all 48 state associations achieved the per-member-giving goal.
The 2019-20 per-member-giving goal was $4.75; the Elks blew that out of the water. ENF donors gave $8.68 per member—another record set.
Thank you so much for choosing to support us right now! Your decision means the world to us, and we don't take it for granted.
A 501(c)(3) public charity, the Elks National Foundation helps Elks build stronger communities through programs that support youth, serve veterans and meet needs in areas where Elks live and work. For more information on the ENF, visit elks.org/enf.
---
Back to top