Impact Grant (Re)Builds Commmunity
When Elks see a need, they work together to meet it, and the members of Greater Pine Island, Florida, Lodge No. 2781 are no different. With Impact Grant funds from the Elks National Foundation, the Lodge initiated the Elks Senior Housing Project to help low-income seniors, veterans and people with disabilities complete vital home repairs and modifications to make their houses safer.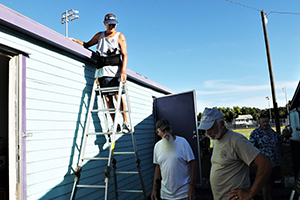 "Improving the lives of others is the core of everything we do," says Judy Hopkins, Exalted Ruler of Lodge 2781. "We provide minor and urgent home repairs to prevent homeowners from suffering injury and falls, accidents, or having to move out of their homes and into assisted living."
One of the best ways to prevent household injury, according to the Center for Disease Control, is through home modifications. The Lodge installs wheelchair ramps, handrails, toilet risers, shower chairs, special lighting, smoke detectors and shelving in local houses. Volunteers also paint residences and remove debris caused by Hurricane Irma. No matter how small the repair, the impact is monumental: turning houses back into homes.
This was true for Joann, a resident of Pine Island who has has lived in the same house for 18 years. A diagnosis of Rheumatoid Arthritis slowly made it harder for her to achieve the safe and beautiful home she wanted. The Greater Pine Island Elks installed railing around her deck, replaced broken tiles, and painted the exterior of her home.
"I just don't feel I deserve this," says Joann. "But at the same time, that's just a matter of accepting that it's okay to need help. And for strangers to help is even more extraordinary. It gives me hope in today's world."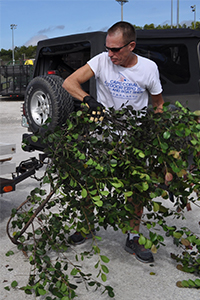 After learning about the Lodge's Impact Grant project, local churches and nonprofit organizations like Beacon of Hope, the Pine Island Community Church, Pine Island Cares, and many others started to help. Hopkins says that such partnerships are essential for increasing resources and outreach, promoting creativity, and modeling teamwork to help the community work toward a common goal.
The project even expanded beyond the Pine Island community. Two members of the Lodge heard about the mission of Bethel Community Church's Powerhouse High School Group in Chicago—located more than 1,000 miles away—through their local church and decided to reach out to the Pastor about the Elks Senior Housing Project. On a mission to do service projects in a community that encourages a connection to God, the students knew they wanted to get involved. Thirty-three students from the school paid their own way to Pine Island, stayed with locals, and helped the Elks with several home improvements.
"Empowering youth to identify and respond to community needs helps them become empathetic, reflective individuals, setting them on a course to potentially continue this important work in their future and perhaps become active members of their local Elks," says Hopkins.
Over the course of a week, the students helped de-mold and paint two trailers, remove debris from Hurricane Irma, paint a cottage and pool house, and clean up the local elementary school. The project allowed the students to practice some of the virtues they had learned through their church— virtues familiar to the Elks—charity, justice, brotherly love and fidelity.
"There were countless things they learned from this experience that will stick with them forever," says Hopkins. "The one that stands out to me is that no matter where they are, no matter what problems they are facing in life, people can come together and help each other no matter their differences."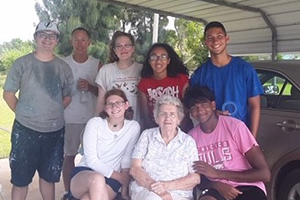 The Greater Pine Island Lodge was one of 50 Lodges that were approved for a renewal of their Impact Grant. In 2020 they received another $10,000 to continue reshaping homes in their community. As is the Elk way, members of the Lodge are already looking for ways to expand the program, make a difference in more people's lives, and increase the number of volunteers working on the project.
"We've found that volunteer activity often reshapes or redirects people's values, perspectives, and even their life goals in several ways," says Hopkins. "We do not volunteer, for the most part, because it benefits us. We volunteer because it makes a difference."
The Elks National Foundation helps Lodges serve their communities in significant and ongoing ways by awarding Impact Grants of up to $10,000. To find out more about Impact Grants and the Community Investments Program, visit enf.elks.org/ImpactGrants.
---
Back to top