One Big Family
Over the course of five years, Carrie Silsby watched her son Barron grow up—not just from a nine-year-old into a thirteen-year-old, but from a kid into a resilient, hard-working, and gritty young adult—all thanks to the Elks Hoop Shoot.
Barron, a 2019 Hoop Shoot National Finalist, started competing when he was 9, and he made it to the Regional Hoop Shoot four out of his five years as a contestant—he reached the National Finals in his final year of eligibility.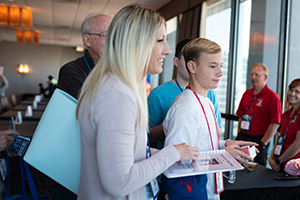 His mother says the Hoop Shoot affected him positively. "He's always had dedication, but I think he's really locked in and stepped it up a little bit and focused," Carrie says. "He's a great student. He's a great person, and I think that just all stems from this experience."
Setting goals and learning the value of hard work and practice are just two of the lessons kids learn from participating in the Hoop Shoot.
"They build skills to be successful in the future," says Larry Torres, one of the Hoop Shoot Senior Regional Directors. "They're our future. We do develop grit, and you've got to have grit to be successful in life. You can't give up. You've got to have that perseverance to set those goals, and then you have to achieve them."
In 2018, Barron only made it to the state-level contest—it was the first time he didn't make it to Regionals. Barron felt sad, he explains, but he knew that if he worked hard enough, he could make it back to Regionals and on to the National Finals.
"I started practicing a couple weeks after I lost because I was trying to get better and better every day so I [could] make it here," Barron says.
His practice paid off. Barron finally made it to the 2019 National Finals, where he finished the contest, and his Hoop Shoot tenure, with a 21 out of 25.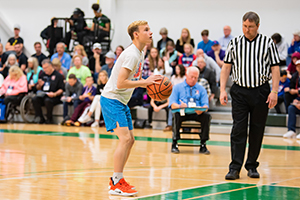 And after five years of attending Hoop Shoot contests—an experience Carrie says her family will never forget—she and her husband, Stephen, realized how connected they felt to the Elks.
"They treated us like family from day one and made Barron feel so special and like a real champ at every level," Carrie says. "We couldn't imagine not seeing them anymore since Barron aged out."
The Silsbys loved the time and effort the Elks put in to making the Hoop Shoot a positive experience and realized the Elks truly care about the participants and their futures—and they wanted to be a part of it. Stephen joined the Chandler, Ariz., Lodge No. 2429. Now, they are working with the Lodge to host a Soccer Shoot.
"I just think it feels like a big family, and to have that in our lives is just awesome," Carrie says.
Carrie and Barron are featured in the 2019 Griteo series. Watch their video below to hear more about their Hoop Shoot experience!(Runtime: 1 min., 56 secs.)
The Elks have been developing gritty kids through the Hoop Shoot program for nearly 50 years. For 2019-20, the Elks National Foundation allocated $1.1 million to fund the program. For videos, news from the court, and more information about the Hoop Shoot, visit elks.org/HoopShoot.
---
Back to top