Putting Food on the Table
Saratoga-Wilton, N.Y., Lodge No. 161 wants to end food insecurity among seniors in their community. With the help of a $10,000 Impact Grant and a group of devoted volunteers, the Lodge is well on its way to achieving greater community awareness and expanding its dedicated food delivery program.
The program started in September 2017 when Ben Buffa, the chair of the Senior Outreach Committee for the Saratoga-Wilton Lodge, moved into a senior apartment complex and noticed some of his neighbors struggled to meet their own needs.
"A lot of people in their 80's to early 90's were having a hard time and were living close to the poverty line, maybe even below," Buffa said in an interview with Saratoga Today. "A lot of them didn't have transportation, and they didn't have family members around to support them."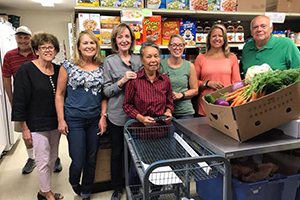 While driving a few neighbors to appointments, he learned several couldn't afford groceries some weeks. He reached out to a local food pantry, filled bags of groceries for eight residents and delivered the groceries directly to them. But, he saw a greater need beyond his apartment complex and decided to get the Elks involved. He held a meeting in early 2018 and recruited 15 volunteers.
From there, the effort grew into what it is today—the Seniors in Need Food Delivery Program. More than 20 volunteers—both Lodge members and members of the community—bag and deliver groceries to more than 160 seniors. Between July and September 2019, the Saratoga-Wilton Lodge delivered approximately 600 bags of groceries—enough for more than 7,000 meals.
According to Feeding America, 5.5 million seniors faced food insecurity in 2017. "Food insecurity is a very real problem, especially for low-income seniors with medical issues and without transportation," Buffa said. In order to meet recipients' needs, the Lodge partnered with four food pantries and six senior housing complexes, as well as two community farms.
"The seniors who participate share with us this service provides supplemental support to their nutritional needs, so they don't worry about stretching their food supplies to last until their next government check," said Linda Walczak, a volunteer with the program and a member of the Saratoga-Wilton Lodge.
Elks volunteers call each senior to remind them to place their food order. The order forms include options for canned goods, cereal, grains, pasta, juices and fresh produce. Volunteers pick up the order forms and pack reusable grocery bags with goods, then deliver them directly to the program's community partners. They place follow-up calls, too, ensuring seniors have their needs met with each delivery.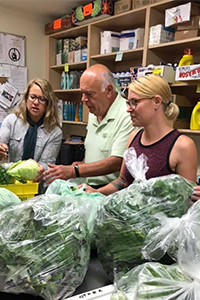 "This program has made a huge impact in our community," said Deborah McCabe Reedy, PER of the Saratoga-Wilton Lodge and a volunteer with the program. "Not only has it brought our members closer together, but it has also brought our community closer together. It's an incredible feeling personally packing the food and delivering to those who really need it."
The Saratoga-Wilton Lodge was one of 17 new 2019 Impact Grant projects, and it was recently approved for a renewal of its Impact Grant funding. This year, the Lodge used its $10,000 grant to purchase "senior-friendly" food, fresh produce, items not readily available at local food pantries and personal care items. The program's revamped delivery schedule allows them to provide groceries twice per month.
"I have heard the seniors say that this program stretches their food dollars enough that they can afford their medicine this month," wrote the service coordinator of Raymond Watkin Apartments, one of the program's community partners. "Some have started meal-planning knowing they will have enough food. Others have teamed up with a neighbor to eat and cook together."
The Lodge purchased a food storage cabinet, which holds 600 pounds of food and other items, ensuring the program's long-term viability. By the end of 2019, more than 200 seniors are expected to be registered for the program.
The Impact Grant is just the start for the Lodge's long-term vision of spreading the program to more counties and states.
"To accomplish our goals we need [to] recruit additional volunteers, partner with a fourth food pantry, partner with at [least] two more senior apartments and reach out to other Lodges to help them understand the critical need to reduce food insecurity within their community," Buffa said. "We also look forward to working with any Elks Lodge interested in creating a similar program in their community."
The Elks National Foundation helps Lodges serve their communities in significant and ongoing ways by awarding Impact Grants of up to $10,000. To find out more about Impact Grants and the Community Investments Program, visit enf.elks.org/ImpactGrants.
---
Back to top