ENF Staff Members Join the Chicago Northshore Lodge
Last Wednesday, three members of the Elks National Foundation were initiated into the Benevolent and Protective Order of the Elks at Chicago Northshore, Ill., Lodge No. 1316, keeping the Elks on track for another year of membership gain.
Through the nature of their work, the three ENF employees, Ashley Hart, John Kavula and Meaghan Morris, recognized the positive impact Elks have had on their communities—so much so, they decided to join.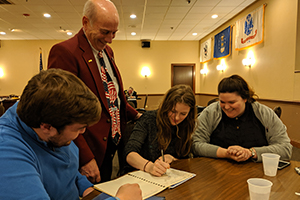 Meaghan is a Programs Coordinator in the Community Investments Program department, and while her #ElksFamily roots are in Randolph, Mass., Lodge No. 2130, Meaghan decided to join the Chicago Northshore Lodge to get closer to the philanthropic efforts happening in her backyard.
"By reviewing grants, I have been able to see up close the passion, dedication and influence Elks have," Meaghan says. "By actually joining the Elks, I am able to jump headfirst into the incredible projects Chicago Northshore tackles."
Meaghan is not the only initiate with family in the Elks. John Kavula, the current Elks Scholar Fellow, is a 2014 Legacy Scholar, something that greatly influenced his decision to join the Elks.
"After growing up around my grandfather's Lodge, receiving a Legacy scholarship, and now working for the ENF, joining the Elks was the natural final step to becoming a champion of the Order," John says.
Elks Headquarters boasts several employees at the Chicago Northshore Lodge—including the current Exalted Ruler, Avis Thomas, and PDDGER Sandy Supancic—so the newcomers were welcomed by faces both new and familiar. As ER, Avis took the reigns of the initiation, and Sandy helped the initiates get comfortable, introducing them to members, officers, and even the District Deputy, Tawn Williams, who was visiting that meeting.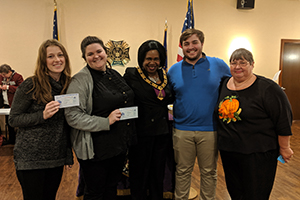 Williams publicly recognized the hardworking, charitable nature of the Chicago Northshore Lodge, and knew it was time to acknowledge the loyal efforts of Sandy Supancic. In front of the Lodge, the new members, and representatives from five of the six Lodges within their District, Williams honored Sandy with a Lifetime Membership to the Chicago Northshore Lodge.
Being present for such an honor was particularly moving to new recruit Ashley, who works with Sandy closely in the Donor Services department. Ashley has been in awe of the tight-knit community the Elks provide and felt that she was able to see that community in action with Sandy's commendation.
"Being witness to this tribute felt like we were immediately welcomed into the #ElksFamily," Ashley reflects. "With Lodges across the country, it's nice to know there's always a support system wherever we go."
---
Back to top