It's No Joking Matter
Spreading Awareness One School at a Time
The Elks National Drug Awareness Program has always relied on Lodge, district, and state volunteers to educate youth about a drug-free lifestyle—especially through dedicated literature. But over the course of the past 15 years, the DAP has expanded its method of delivering its mission-minded message.
Today, videos, coloring books, an essay and poster contest, and a comic book featuring Marvel superheroes and Elroy the Elk all work to combat the use and abuse of illegal substances. And every year, the program sponsors a speaking tour by Ray Lozano, a certified prevention specialist and drug and alcohol counselor and a member of Redlands, Calif., Lodge No. 583.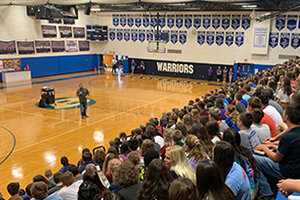 Ray travels throughout the country, speaking to thousands of middle- and high-school students, parents, teachers, administrators and community members—including Elks—about the dangers of substance abuse. He discusses vaping, tobacco and alcohol use, and illegal and legal recreational drug use and the impact abusing these substances has on bodies, minds, and relationships.
As a former vice-principal and stand-up comic, Ray puts on a different presentation than most, and it never fails to draw students in. He doesn't "drop the hammer" on his audience; instead, he uses humor to break down the barrier between himself and students, and as a result, they all walk away with knowledge they can use to make healthy decisions.
For "the kids who aren't using, this information helps reinforce why they shouldn't use," Ray says. "For the kids that are using—and I mean, I have a million of these stories where kids [say], 'wow, I didn't realize that, maybe using isn't a good idea? We're getting both the extremes."
At a recent presentation in Connecticut, Ray received a compliment that stuck with him. A student approached him following a middle school presentation and told Ray he had expected to be bored and didn't want to attend, but in the end, he was thankful he had because of everything he learned.
Another student, whose father vapes after quitting smoking, approached Ray. He noticed his father used the vape more often than he'd ever smoked a cigarette, and he asked Ray about the best ways to encourage his father to quit.
And while presenting at a middle school in Maryland, a principal even hugged Ray out of gratitude for the information he provided on e-cigarettes, a recurring issue in many of the schools he visited.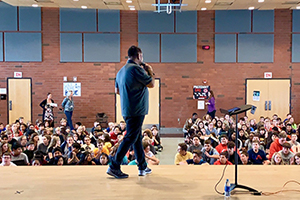 "I cannot say enough about your presentation," wrote Linda Buchanan, the Drug Awareness Program Chair for the Deale, Md., Lodge No 2258, in a thank-you note to Ray. "If you kept one student from drinking and driving or one student from a vape addiction, it was all worth it."
It's Ray's sixth year as the Elks' DAP speaker, and he spends a minimum of three days in each state he visits. It sounds like a short time, but Ray makes a significant impact on the intrinsic level of drug awareness and prevention efforts.
"I love the grassroots stuff," Ray says. "That's why I love being involved with the Elks so much. When I get to go out and speak, I know that I'm leaving a group of people there that can still work with the schools."
Through the Elks National Drug Awareness Program, youth learn the importance of making healthy choices. For 2019-20, the Elks National Foundation allocated $1 million to fund the Drug Awareness Program, which includes a nationwide speaking tour. For more information, visit elks.org/dap.
---
Back to top