"I didn't know what I was going to do."
Moving On
The moments of our lives are like the chapters of a book. Some chapters, you hold close and recall often. For Jesse, these chapters are about marrying his high school sweetheart, raising his 11 children, and watching his 28 grandchildren and great-grandchildren grow up.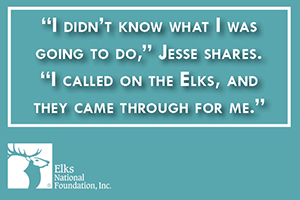 Other chapters, we skip over—they're too painful. For Jesse, they're about witnessing the deaths of his fellow Navy comrades on the USS Guadalupe, being diagnosed with PTSD after returning from the war, getting a call that told him his youngest son had passed away, and losing his twin brothers 10 months apart.
No matter what happens, Jesse continues moving on and writes his story. In 1972, when his soon-to-be wife became pregnant with their first child, Jesse followed his father's lead and joined the Navy. One year aboard the ship changed his life; he returned home a changed man. Jesse was diagnosed with "shell shock," which would later become known as PTSD.
"The thing with trauma is it always put me in a bad place," Jesse recalls. "I have been in some dark places in different times in my life."
Another moment that sent Jesse into the dark was losing his youngest son. With conviction, Jesse shares that he wouldn't be here today if the V.A. hadn't been there to get him through it.
"If I didn't have the V.A., I don't think I would have made it through that," Jesse shares.
Not only did the V.A. offer mental health care, it also referred Jesse to the Elks' Emergency Assistance Fund. The funeral costs for Jesse's son wiped out the money he had put aside for rent and bills.
"I didn't know what I was going to do," Jesse shares. "I called on the Elks, and they came through for me."
The emergency assistance paid for a month and a half of Jesse's rent, and helped him escape an eviction notice. Since receiving emergency assistance, Jesse has made it his duty to spread the words to other veterans like him and his friends at the V.A.
"I have a lot of information to pass on to other veterans because a lot of them don't know where the resources are," Jesse says.
Jesse has met many homeless veterans since moving to California; he was one of them until he found housing through the HUD-VASH program. No matter what happens, Jesse says he can rely on the V.A., and not just for its service.
"I'm more comfortable around veterans than I am with normal people," Jesse says.
Jesse continues building camaraderie with other veterans at the V.A. and spends time with his wife and his grandchildren. He works odd jobs so he can save money for his "grandkid fun" and hopes to start a business flipping houses with his grandson.
"I think I'll let him do all the work while I supervise," Jesse laughs.
No matter what life writes next for Jesse, he's glad to know the Elks are a part of his story.
"I appreciate the Elks organization," Jesse shares. "They're a Godsend. I will spread the word that you guys are there for veterans." He even hopes to be an Elk himself one day.
Since July 2015, the Elks National Foundation has contributed $5.3 million to help end veteran homelessness. The money funds the Elks National Veterans Service Commission's Welcome Home initiative, which includes an Emergency Assistance Fund for veterans in eight metropolitan areas targeted by the V.A. for increased focus by the Elks. To date, the Elks have helped more than 1,350 veterans exit or avoid homelessness through emergency assistance. Learn more at enf.elks.org/WelcomeHome.
---
Back to top