Spotlight Grant Drive at Convention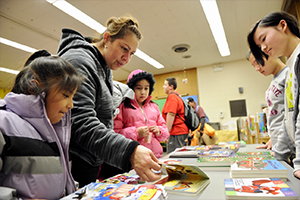 This year, the spotlight is on the Community Investment Program's new Spotlight Grant. If you're attending the Elks National Convention in June, you can shine, too! The Elks National Foundation is hosting a Spotlight Grant Drive.
We're asking Convention attendees to bring a pack of new socks for veterans in need or a new or gently used children's book to promote literacy. Your Lodge will then be entered into a raffle to double the value of its Spotlight Grant to $4,000.
To enter the raffle, you must donate your item at the ENF booth during Convention. But anyone attending can participate—even guests! The socks and books will be donated to local organizations in the St. Louis area. Donations can be dropped off at the ENF booth in the Exhibit Hall from Saturday to Tuesday. See you in St. Louis!
Not sure which book to donate? Check out the ENF staff's picks here.
To see the ENF's 2019 Convention Schedule, click here.
The Elks National Foundation is helping Lodges encourage literacy and help end veteran homelessness by offering Spotlight Grants of $2,000. To find out more about Spotlight Grants and the Community Investments Program, visit enf.elks.org/SpotlightGrants.
---
Back to top