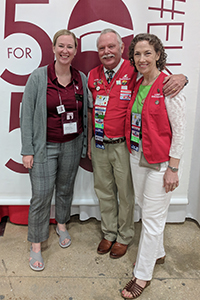 Quackenbush, noun: (Dutch) 1. Forest of the croaking frog: 2. Quacking duck. Used in a sentence: David Quackenbush stopped by the Elks National Foundation booth at the Elks National Convention to discuss his unique last name, what he admires about the Elks, and why he joined the Fidelity Club.
Thirty-five years ago, Quackenbush and his wife, Lorren, moved to Tucson with their two kids, opened A1 Watch Company, and settled down in their new town. Ten years later, Quackenbush followed in the footsteps of his father, who was an Elk, and joined Tucson, Ariz., Lodge No. 385.
Shortly after joining, Quackenbush was conscious about getting involved. He volunteered and served in a variety of positions, including District Deputy, and started donating to the ENF.
"I don't think everyone realizes the great things the ENF does for our children and for our Lodges," Quackenbush says.
He wanted to offer continued support for the Hoop Shoot, Community Investments Program and scholarships—his favorite ENF initiative—and the easiest way for him to do that was by joining the Fidelity Club.
"I don't even miss the money I donate," Quackenbush says. "It just goes out of the account and makes it very simple for me."
Without Elks like Quackenbush, it wouldn't be possible for the ENF to help students look forward, meet the needs of today's veterans, or build stronger Elks communities.
Give to the ENF with ease. Donors who join the ENF Fidelity Club, the ENF's monthly giving program, have their names listed on our website and receive a special pin. To learn more about participating in the Fidelity Club, please visit enf.elks.org/FidelityClub.