A True Elk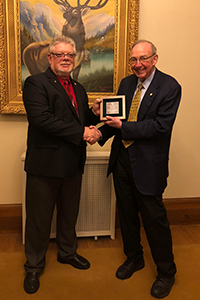 With more than 1.5 million nonprofits in the U.S., how do you choose where to donate your dollars? Knowing his donations will go further and support several groups—youth, students, veterans and Elks communities—Past Grand Exalted Ruler Roger True starts with the Elks National Foundation.
"The ENF has brought forward a way to help Lodges be recognized partners in community development," True says. "It brings to light that there's a local Elks Lodge in the community helping local people."
Since joining the Elks in 1974, True has been a resolute supporter. He has supported the ENF's programs as a loyalty donor; scholarships as a Named Scholar donor; and longevity as a John F. Malley Society member. True's philanthropy became tangible when he was presented with the gold-level recognition plaque by fellow PGER and Trustee Emeritus Ted Hess, a man True calls a valued friend and mentor.
"I was honored to have PGER Hess present me with the beautiful gold plaque," True says.
True's dedication to the ENF was tested when his father, their Lodge's Exalted Ruler at the time, presented a challenge to his son: help their Lodge make the Grand Exalted Ruler's per-member-giving goal.
"That was my first experience asking members for donations to the ENF," True shares. "If you are an Elk, and I mean more than just a card-carrying member, an Elk who believes in our Order and the great work we do, then open up your heart and wallet, give what you can, and use the ENF to give back to Elks communities."
Throughout his years as an Elk, True has appreciated watching the Community Investments Program grow and open the door for Lodges to engage at every level in the community, from providing school supplies to students to building a community park. He hopes to see this program and others, including the Elks National Veterans Service Commission, continue to expand.
"In the future, I would love to see even more support of our nation's servicemen and women, our veterans, and our often-forgotten emergency responders," Roger says. With true Elks like him, there's no limit to the number of veterans, youth, or Elks community members who will continue to be served by the ENF.
Leave your legacy. For additional information about ENF planned giving, please visit ENFPlannedGiving.org. To discuss planning a gift to the Elks National Foundation, please contact Kate Keating Edsey at KateE@elks.org or 773/755-4866.
---
Back to top