It Started with a Spark
The Elks National Foundation didn't start a fire when it began funding Freedom Grants in 2011; the desire to serve veterans was already burning in Elks communities across the nation, like Green Bay, Wisc., Lodge No. 259. After starting a relationship with their local Disabled American Veterans chapter, Green Bay Lodge. No. 259 went to work.
"The Lodge takes special interest in serving veterans because that is what we, as Elks, have been mentored to do," says Dave Crevcoure, the Lodge Secretary. "Serving veterans is the foundation of our Order."
Green Bay Lodge started with a brat fry at their local grocery store. They used the money they raised to buy gas cards for veterans at the DAV. A few years later, once they were available, Green Bay applied for and received their first Freedom Grant, and they've gotten it every year since.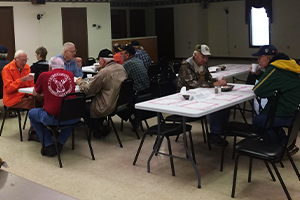 Using the Freedom Grant, the Lodge created an outreach program that serves low-income veterans and veterans experiencing homelessness. Every third Wednesday of the month, they host a lunch called "Soup for Vets." Twice a month, they invite veterans to a complimentary dinner at the Lodge; last year, they added bingo to the dinner schedule to give Elks and veterans an opportunity to interact and wind down.
"The Lodge feels that we're only beginning to impact the community, and we're looking for ways we can do more," Crevcoure shares. "There are many veterans who we could help."

In addition to providing meals, the Lodge has a Heroes Closet stocked with clothing, hygiene kits, food and more. Veterans can stop by and grab what they need from the closet, and the Lodge donates excess items to their local V.A. clinic.
Even with these ongoing projects and dozens of Elks volunteering their time, the Lodge plans to grow their community initiatives, and Crevcoure says they're grateful for the assistance the ENF offers in helping them expand those efforts.
"The Freedom Grant is important to us in pursuing and developing our veterans programs," Crevcoure says.
Green Bay Lodge is on a mission to "meet veterans needs and provide solutions to any problems they may have." While they've already made a difference in so many lives, the fire continues to burn.
The Elks National Foundation helps Lodges meet the needs of today's veterans by funding Freedom Grants of up to $2,000. To find out more about Freedom Grants and the Community Investments Program, visit enf.elks.org/FreedomGrants.
---
Back to top