Nester Tan, an Elk with a Plan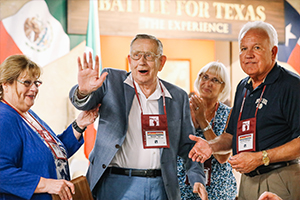 No more than a few hours passed between the time Nester Tan watched a presentation on the Elks National Foundation and when he chose to make it his charity of choice, one that he would go on to support for the next 36 years of his life.
"The presentation hit me, and it made me think, 'I have to go with this, there's something there,'" Tan says. "I went home to tell my wife; she said fine, and then we flew."
And it wasn't until the 2018 Elks National Convention in San Antonio that he landed. With a standing ovation, Lou Sulsberger, chairman of the ENF board, presented the platinum-level donor plaque to Tan during the donor event. The moment brought tears to Tan's eyes while his daughter, Heather, beamed beside him—a moment he says he'll never forget.
Donating $50,000 to the ENF had been a goal Tan worked toward for decades, and it all started with a blank envelope. Tan wrote his goal at the top and whenever he reached a new donor level, he subtracted that amount, getting a little closer to zero every time. There were times when Tan's donations slowed down, like when he and his wife were putting their three children through college or when they ran their own ice cream parlor called Unlimited Flavors by Nester.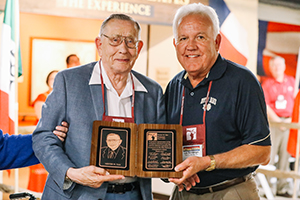 But when he could, he gave, and he gave in more ways than one. Every Monday in his early Elk days, Tan received a friendly call from the Exalted Ruler asking if he could help out the next day. Then, sure as clockwork, every Tuesday, Tan was at the Lodge doing what he could.
He shared a story about the time he watched a fellow Elk climb a tree to install an antenna in their RV park, an antenna that he proudly declared is still there today. Although his own tree-climbing days are behind, Tan still frequents the Lodge for "the good dinners" and tries to spread the Elks' mission wherever he goes.
Holding his plaque at the event, Tan recounted these moments with laughter and a faraway look in his eyes, showing everyone around him that these memories mean more to him than words can ever tell. Heather shared how special it has been to watch her father fill with pride seeing people benefit from his joy of giving.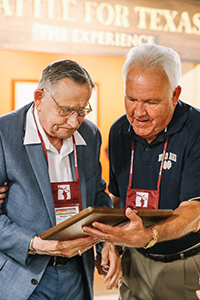 "Knowing kids are able to get scholarships or advance in the Hoop Shoot, kids who might never had the chance to otherwise, is something he has always been proud of," Heather says.
Tan hopes to see the Foundation continue well into the future, and he's going to be here supporting it every day that he can.
"You get a little slower, Tan says, "but I'm going to keep participating and going to meetings to see what's going on."
As for his legacy, Heather says she hopes people know that her father has enjoyed every minute of being an Elk and of supporting the ENF. Tan requested that this story be "laughable at times," another example of his infectious charisma, but his support has been anything but comical—it's optimistic; it's goodhearted; and it's going to continue making a difference for many years to come.
Tan presented a speech at his Lodge when he received his silver-level plaque in 2007. Read it in its entirety here.
---
Back to top