Elks National Foundation 2018 Convention Schedule
ENF in San Antonio
The Elks National Foundation has some exciting events and presentations planned for you. Here are some highlights:
OPENING CEREMONIES
Don't miss the Foundation's report during Sunday's Opening Ceremonies!
Sunday, July 1 | 4 p.m.
Henry B. González Convention Center
Gary Sinise and the Lt. Dan Band will help us celebrate the Elks 150th Anniversary with a concert after Opening Ceremonies. #Elks150
SERVICE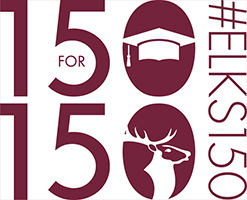 Be part of the largest ever gathering of Elks scholars! More than 150 scholars are in town for a mega-Elks Scholar Service Trip in celebration of the Order's 150th anniversary. On Sunday, they'll be at the Convention Center from 10 a.m. to Noon to serve side by side with the people who made their scholarships possible, assembling hygiene kits for veterans in need. Whether you want to pitch in for two minutes or two hours, the scholars will welcome your help. Let's celebrate through service together! #Elks150 #CelebrateThroughService
Sunday, July 1 | 10 to Noon
Henry B. González Exhibit Hall
Seminars and Learning Opportunities
When planning your schedule for the 2018 Elks National Convention in San Antonio, don't miss the following Elks National Foundation sessions. Seating is limited for all of our seminars, and admission is on a first-come, first-served basis.
Doors open 30 minutes before seminars begin.
For more information, email enf@elks.org or call 773/755-4728.
Community Investments Program: Lodge Grants
This session will be an overview of all 2018-19 Community Investments Program Lodge grant opportunities, including best practices for grant use and updated deadlines and processes.
Monday, July 2 | 12:30 to 1:30 p.m.
Henry B. González Convention Center, 221 A/B

ENF Fundraising Chairs: Promote, Acquire, Renew, Recognize
ENF Fundraising Chairs have diverse and critical role responsibilities—Promote, Acquire, Renew and Recognize. Learn more about your role, along with tools and tips to be an effective Chair. Though the content for this seminar is designed for ENF Fundraising Chairs, all are welcome to attend.

Monday, July 2 | 12:30 to 1:30 p.m.
Henry B. González Convention Center, 221 C/D

Community Investments Program Office Hours
ENF staff will be available to answer your questions about the various grants available to Lodges—Anniversary, Beacon, Gratitude, Promise, Impact and Freedom. This is not a seminar—meetings are one-on-one with ENF staff. Visit the ENF Booth in the Exhibit Hall to sign up for a 10-minute time slot.

Tuesday, July 3 | Time Slots available from 7:45 a.m. to 2 p.m.
Henry B. González Convention Center, Exhibit Hall

*Rooms are subject to change.
---
Back to top