Dennis Makes the Case for Serving Veterans
Following a Veteran's Day celebration at Arlington National Cemetery in 1963, President John F. Kennedy said, "As we express our gratitude, we must never forget that the highest appreciation is not to utter words, but to live by them." The Elks are proud to live by these words: "So long as there are veterans, the Benevolent and Protective Order of Elks will never forget them."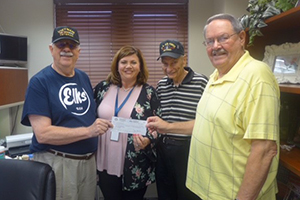 One Elk who is living that mission is a Navy veteran himself, Dennis Case. Case joined Plano, Texas, Lodge No. 2485 a little over five years ago, but his impact goes far beyond his years as a member. Case chairs the Lodge's Veterans Service Committee, represents the Elks on the county's Veterans Commission, and serves as an Elks Voluntary Service Representative at the Dallas V.A. Medical Center. He is also working his way through the Chairs.
When it comes to supporting veterans in the area, Case's motto is "Care and Comfort." He has gone above and beyond to ensure every veteran is supported.
"His infectious work and attitude have motivated other Elks, Lodges and the entire North District to do more for our veterans," says Chuck Williams, Past Chairman of the Elks National Foundation's Board of Trustee's and the State Co-Sponsor for Texas.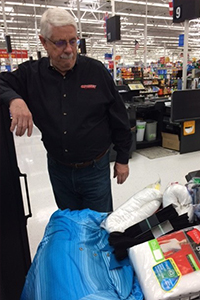 Case helped his Lodge secure a $2,000 Freedom Grant to distribute socks and underwear to more than 500 veterans in need. The activity inspired other Elks to get more involved in helping veterans.
Never one to rest on his laurels when there are veterans who need help, he recently took the lead in caring for veterans in a metroplex of communities on the Northeastern side of Dallas.
As President Kennedy would have put it, Case keeps asking not what our veterans have done for us, but what he can do for our veterans.
The Elks National Foundation ensures our veterans are never forgotten. In 2017-18, the ENF granted $1.5 million to serve veterans through the Elks National Veterans Service Commission, and pledged $1 million to help the commission end veteran homelessness. For more information about the Veterans Service Commission, visit elks.org/vets.
---
Back to top