2017 Most Valuable Student Scholar
University of Chicago —
Neuroscience Major, Spanish Minor
Sponsored by Valparaiso, IN Lodge No. 500
Alyssa Condie is a 2017 Most Valuable Student scholar. She's also a star student, exemplary volunteer in her community and plans to become a doctor—no obstacle is going to get in the way of her mission to help the world.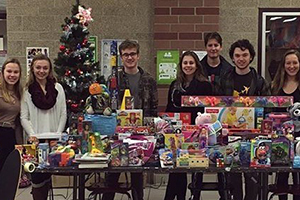 In high school, Alyssa participated in and led several clubs including the Spanish Club, Counseling Advisory Council and vice president of Student Affairs. These clubs taught Alyssa as many school lessons as they did life lessons.
Equally as important to Alyssa as being involved at her school was being active in her community. She has been vice president of the junior board for Jacob's Ladder, a pediatric rehabilitation center for children with autism, a swim coach for Special Olympics Indiana and participated in and led Natural Helpers, which helps immigrants and refugees adjust to life in Indianapolis.
"Since I was old enough to realize that there are people less fortunate than me, I have been attempting to do my part to enact change," Alyssa says. "Helping others is part of what defines me, and I cannot imagine leading a life without it."
Alyssa plans to dedicate her life to helping others by majoring in neuroscience and minoring in Foreign Languages and Literatures at the University of Chicago. After graduating from medical school in several years, Alyssa plans to be on the forefront of developing medicine that treats disorders associated with malfunction in a human's neurology.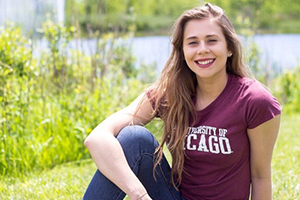 She is minoring in Foreign Languages and Literatures to enhance her communication skills with patients with various backgrounds. She hopes to eventually use her medical and foreign language knowledge when she joins Doctors Without Borders.
"Although I'm just one person, I believe I have begun to make a mark on my community through the time and efforts I have devoted to the causes that are important to me, just as a true scholar does," Alyssa says.
Like every member of the #ElksFamily, Alyssa's outlook on life embodies how she wants to spend each day—volunteering, serving and helping others. She believes their selflessness and passion will build communities around the world, and she looks forward to interacting with them in the future.
"I believe being an Elks scholar will help me continue to make connections with students and professionals across the country as I further develop the leadership and service attributes that are critical to my goals," Alyssa says.
For 2017-18, the Elks National Foundation allocated $2.89 million to fund the Most Valuable Student scholarship program, which includes 500 four-year scholarships ranging from $4,000 to $50,000. For more information about the Most Valuable Student scholarship program, including eligibility and deadlines, visit enf.elks.org/MVS.