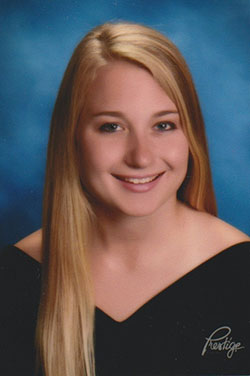 2016 Most Valuable Student Recipient
University of Florida—Biomedical Engineering Major
Sponsored by Pompano Beach, Fla., Lodge No. 1609
Elks scholars are using their talents to transform their communities and world through their studies. 2016 Most Valuable Student scholar Megan Palm embodies this outlook as she heads off to campus with plans to study engineering to help design and implement medical technology globally.
Megan was active in high school and volunteered with numerous organizations in her community. This included time at the local hospital in the emergency department, hosting events with the Pompano Beach Dynamos, an organization that hosts meet-ups for adults with mental disabilities where Megan led a series of art projects, and Jacob's Shoes, which donates shoes and other supplies to people in need. She also spent time with PuzzlePin, a company dedicated to raising autism awareness and funds for public schools programs after writing a feature article on the organization for her school newspaper.
In college, Megan will combine her creativity and love of applied science by majoring in engineering with a minor in studio art.
"I eventually hope to integrate these surprisingly similar fields—both involve a similar technicality, attention to detail and innovation—to create a better world," says Megan. "For as long as I can remember, I've always wanted to help people."
Her volunteer work with adults and students with mental disabilities has strongly influenced her desire to study engineering, as she can utilize science to improve the lives of others to make the world a better place. In particular she plans to develop and implement medical technology to better diagnose and treat disorders such as autism.
She also hopes to implement more adaptable and affordable technology, to improve the lives of individuals both here and abroad, and serve the world as an engineer and autism awareness advocate.
Megan is proud to be an Elks scholar and to be counted among a group of ambitious, compassionate students making a difference through their studies and to be supported by a group that embodies the same values.
"Being an Elks scholar means being a part of something bigger than myself," says Megan. "It will provide me with a valuable network of students who share my passion for giving back and I am one step closer to facilitating positive change in my community."
For 2016-17, the Elks National Foundation allocated $2.75 million to fund the Most Valuable Student scholarship program, which includes 500 four-year Most Valuable Student Scholarships. For more information about the Most Valuable Student scholarship program, including eligibility and deadlines, visit enf.elks.org/mvs