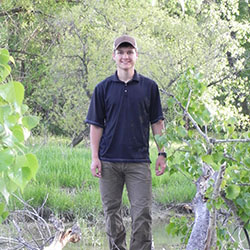 2016 Legacy Awards Recipient
Montana State University—Civil Engineering Major
Sponsored by Billings, Mont., Lodge No. 394
"Volunteerism serves a dual purpose of improving the lives of others, while also improving the one who is doing the volunteering," says 2016 Legacy scholar Austin Marchwinski.
Austin certainly understands the importance of volunteering, as he dedicated himself to volunteer and community activities in high school and plans to continue his commitment during college and his career. Austin's interest in the environment started early on, after his family visited all 50 states, exploring national parks and the flora and fauna they contained.
He continued to explore his interest in the environment and giving back to his community, including time spent with Boy Scouts and 4-H. As a Boy Scout, he participated in numerous leadership positions and obtained his Eagle Scout Award by helping with grounds upkeep of the local zoo. He also volunteered his spare time with the zoo, including helping with special events and zoo maintenance. He continued his interest in wildlife and the environment by participating in 4-H, including raising and showing animals, participating in outdoor activities, nutrition, and gardening projects.
Now at Montana State, Austin is looking forward to studying engineering and plans to pursue a career in water resource management. In particular he hopes to focus on biological resources and use his academic and extracurricular activities to prepare for his career, including volunteering with Engineers Without Borders to work on rural water source development and participating in undergraduate research.
"My goals include becoming well versed in issues related to how we supply the water our society needs today," explains Austin. "And how we protect it for future generations."
He is thankful for the Elks' support of his education and their commitment to improving their communities nationwide, which Austin also hopes to do now and in the future.
"Being an Elks scholar reminds me that success in my education is valued," says Austin. "It means that I am part of a larger effort to make our communities better places to live and work."
In 2016-17, the Elks National Foundation allocated $1.13 million to fund 250 scholarships for the children and grandchildren of Elks. If you know any Elks children who are high school seniors, encourage them to visit enf.elks.org/leg for information, including eligibility and deadlines