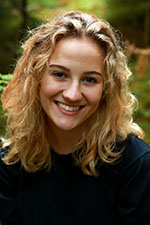 2016 Legacy Awards Recipient
University of Washington—Biochemistry Major
Sponsored by Sandpoint, Idaho, Lodge No. 1376
Elks scholars nationwide use their talents to serve their communities and plan to continue doing so in their careers. Sarah Wells used her writing and editing skills to help fellow students in need and plans to continue her passion for helping others in college and medical school.
Sarah was active throughout high school, including serving on student council, volunteering with various community organizations such as a local nonprofit that supports cancer patients, and becoming a National Merit Scholar. But her largest involvement was as a journalist for her high school, which included serving as the manager and editor of the school's paper and being named the 2016 Idaho Journalist of the Year.
But Sarah used her journalistic skills for more than just reporting on school events. She also used her writing and editing prowess to help fellow students in need.
After three of her classmates committed suicide, her school launched a campaign to improve the school community. Sarah supported this important mission by creating a publication called "YANA", which stands for "You Are Not Alone". Working with mental health professionals, local medical students, and her school's administration, Sarah created a newspaper with dozens of resources fellow students could use if they needed academic or emotional support or if they wanted to help their peers with mental health issues. Sarah's involvement in this and other publications fueled her desire to work hard and help those around her.
As she starts her freshman year at the University of Washington, Sarah plans to major in biochemistry on a pre-med track, with hopes to attend medical school to pursue oncology. In particular, she hopes to work on cancer research from the perspective of genetics, to help revolutionize how terminal and incurable diseases are viewed by the medical community.
"I want to blend my devotion to making a difference with my talents in math and science to medicine, in a very compassionate and understanding manner," says Sarah.
Sarah is grateful for not just the scholarship to help pursue her education but for the Elks' community and dedication to making a difference..
"I love making a difference in the lives of others which is integral to being an Elks scholar and as a journalist," says Sarah. "This scholarship is so much more than money and service, it is a life changing and self-explorative community."
In 2016-17, the Elks National Foundation allocated $1.13 million to fund 250 scholarships for the children and grandchildren of Elks. If you know any Elks children who are high school seniors, encourage them to visit enf.elks.org/leg for information, including eligibility and deadline