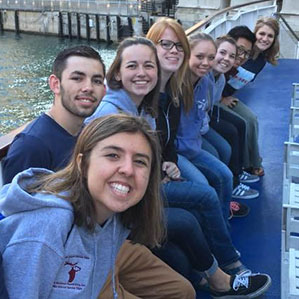 2016 Most Valuable Student Recipient
Rice University— Materials Science and Nanoengineering Major
Sponsored by Englewood, Fla., Lodge No. 2378
Elks scholars nationwide are dedicated to improving their communities through their knowledge and passion. This is certainly true of Grace Wickerson, who used her interests to positively impact girls and youth throughout her community.
After nine years of training, she received her black belt in Tae Kwan Do and used her expertise to empower youth to seek non-violent methods of resolution while shattering stereotypes about what marital arts represent.
This experience led her to found Kickin' Violence, a nonprofit organization dedicated to eradicating violence through martial arts. Since inception, Grace has raised $8,000 to support local domestic violence shelters, spread awareness to local students, and implemented mandatory dating violence education at her school. She plans to expand the organizations reach by establishing chapters nationwide to empower both violence survivors and youth through awareness and martial arts training. She also teaches martial arts to students that could not otherwise afford lessons, and hopes to set up a scholarship program for students interested in learning martial arts.
Her passion for martial arts and domestic violence awareness led her to serve on the loveisrespect National Youth Advisory Council, where she serves on the media outreach team and organizes Respect Weeks at local schools, with the aim of raising awareness about youth dating violence. She also brought trainings to her area to educate teens on dating violence while designing materials for agencies across the country and serving as a youth voice on legal policy changes.
Grace continued to serve the youth of her community through education and mentorship. She founded her area's first ever Girls Who Code club, leading girls in computer science education workshops and coding competitions to increase female representation in tech. She also serves as an Ambassador for the Girl Scouts, earned her Silver and Gold Awards, and acts as a mentor and role model to younger girls in her sister's troop.
In the long term, Grace hopes to use her education to bring change to a global level by helping the United Nations achieve their Sustainable Developments Goals to address the world's most pressing challenges. More specifically, she hopes to found a non-profit think-tank to address world problems through financial support of technology development and implementing these advances through partner organizations and international governments. She hopes her work will ensure a more sustainable future through innovation and technology.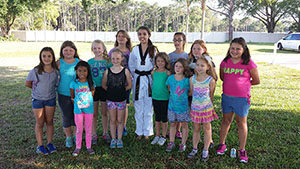 As one of the newest members of the Elks family, Grace has already become involved by attending the Summer Elks Scholar Service Trip this past summer. Click here to view a film of Grace and fellow Elks scholars on the trip.
"All of the Elks I met were so kind and welcoming and made me really want to join the Elks someday," says Grace on meeting Elks members. "I love how passionate they are about what they do. It was a blast getting to know them."
Grace is thankful for the support of the Elks and the opportunities provided to her on both a local and national scale.
"I am beyond excited at the opportunities available to me as an Elks scholar," says Grace. "The Elks is unique in that it provides such remarkable opportunities for scholars to impact people affected by societal issues. They are people who do not consider service as merely an activity but rather a way of life."
For 2016-17, the Elks National Foundation allocated $2.75 million to fund the Most Valuable Student scholarship program, which includes 500 four-year Most Valuable Student Scholarships. For more information about the Most Valuable Student scholarship program, including eligibility and deadlines, visit enf.elks.org/MVS.