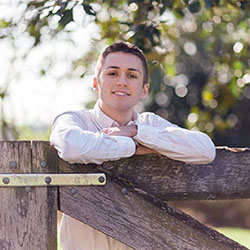 2016 Most Valuable Student Recipient
Duke University—Environmental Science and Policy Major
Sponsored by Dover, Del., Lodge No. 1903
We are proud to welcome Brandon Dawson as the Freshman Scholar Advisory Board member!
"I am proud to call myself an Elks scholar and can't wait to see what these next four years on the Scholar Advisory Board will bring," Brandon shares after spending time with his Elks family at the Elks National Convention this past summer.
Brandon will represent the class of 2016 Elks scholars during his time on the SAB. His diverse interests certainly represent Elks scholars' dedication to their communities. Throughout high school, Brandon engaged in a variety of different activities, including theater, community service, environmental causes and Future Farmers of America.
He was active in his high school's theater program, including landing the lead roles in eight productions. He engaged children in theater and performing arts through volunteering with the Puppetry in Education program, where high school students created puppet shows to be performed for local elementary students on topics such as bullying and cultural tolerance.
Brandon was also active in helping his fellow high school students achieve their college dreams. Through the Delaware College Scholars Program, Brandon helped low income households apply to rigorous universities around the country, serving as both a program ambassador and student counselor. He was also recruited to teach workshops for high school guidance counselors on how to better prepare students to apply to universities outside of Delaware through the Delaware Department of Education.
With the local chapter of Future Farmers of America, he served as president and won numerous awards throughout his four-year involvement. But Brandon went far beyond classroom instruction by starting the FFA Environmental Impact Initiative. What began as a local cleanup of his school grounds continued with the development of multiple community gardens and regular highway cleanup that engaged students throughout his high school.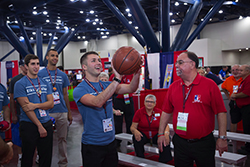 His interest in environmental protection and preservation will continue during his time at Duke University, where he plans to study environmental science. His ultimate goal is to improve environmental policy and activism, both domestically and abroad. More specifically, he hopes to return to Delaware to create a partnership with local school systems to create a career and educational program to introduce students to environmental change, government service, and national environmentalism programs.
Brandon is thankful for the support of his Elks family which will allow him to continue to achieve his goals.
"The Elks have accepted me with open arms and I am eager to get more involved," says Brandon. "I will bear the name of an Elks scholar with pride and continue to get more students involved with this incredible organization."
For 2016-17, the Elks National Foundation allocated $2.75 million to fund the Most Valuable Student scholarship program, which includes 500 four-year Most Valuable Student Scholarships. For more information about the Most Valuable Student scholarship program, including eligibility and deadlines, visit enf.elks.org/MVS.