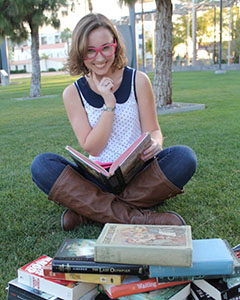 2015 Legacy Awards Scholar
Chandler-Gilbert Community College—Communication Major
Sponsored by St. George 'Dixie', Utah Lodge No. 1743
Joy Custer is proud to be a member of the Elks family and is excited about the role the Elks played in both her past and what she plans to achieve in the future.
Joy was active throughout high school including acting as editor-in-chief for her school newspaper, and participating in Model United Nations and Marching Band. She was also recognized for her educational achievements, including being a member of National Honors Society, Spanish Honor Society, and the Tri-M Music Honor Society.
She also learned the value of hard work by working as a lifeguard for the city pool. Besides ensuring the safety of pool patrons, Joy also taught water safety lessons and helped students improve their swimming skills while staying safe in the water.
With the support of her Elks family, Joy is looking forward to obtaining degrees in communication and computer science while maintaining academic excellence. She also hopes to study abroad and learn about other cultures through immersion and study. Upon graduation, she will pursue her masters in communication and hopes to focus on how communication and computer science intertwine in the digital age.
"In my career, I do not want to chase money or gain the most prestigious title, but instead genuinely love what I do," says Joy.
Joy is thankful for her many memories at her grandparent's Lodge and for the Elks' dedication to their communities.
"Since I was a young, bright-eyed girl visiting the Elks with my grandparents, the Elks have played a pivotal role in my maturation," says Joy. "I relish the opportunity to be a part of an organization that is dedicated to improving the community and offering opportunities for people to become more involved."
In 2015-16, the Elks National Foundation allocated $1 million to fund 250 scholarships for the children and grandchildren of Elks. If you know any Elks children who will be high school seniors in 2016-17, encourage them to visit www.elks.org/enf/scholars. www.elks.org/enf/scholars for information, including eligibility and deadlines.