New Mexico Elks' Cerebral Palsy Commission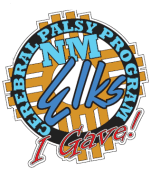 The Cerebral Palsy Commission has implemented a program emphasizing "grass roots" participation from New Mexico's Local Lodges. As an association, the New Mexico Elks are able to help families who have special needs afford the essential equipment, services and tools they need to improve the quality of their everyday life and that of their children. They have made great strides in affecting change in their community and helping children who are burdened by Cerebral Palsy.
Funds are made available for equipment and modifications to equipment and facilities for those with Cerebral Palsy. This includes the purchase of a wheelchairs or walkers, modifications to equipment (such as wheelchair lights), or modifications to facilities (special needs bath remodeling, etc.).
The commission disburses funds to a statewide pool, with no quota per district. In this way, they help the areas with the greatest need. The commission strives to be equitable in the distribution of funds to maximize their charitable work across the state of New Mexico.
NMEA Helps Families and Children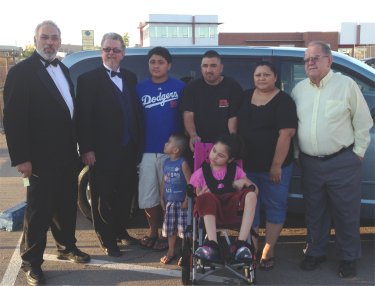 Rio Rancho Elks Lodge #2500's Exalted Ruler Ed Olona, New Mexico Elks Association President Rohnnie Tupin, and Lodge Cerebral Palsy Chairman Steven Rogers presented the keys of a 2009 Chrysler Town and Country van to the Jaime Montoya family of Rio Rancho. Their daughter, Valarie, has Cerebral Palsy. This family had no working vehicle and was unable to get Valarie to her Doctor's appointments. Working with the State NMEA Cerebral Palsy Board, we were able to supply this needy family with a new vehicle. .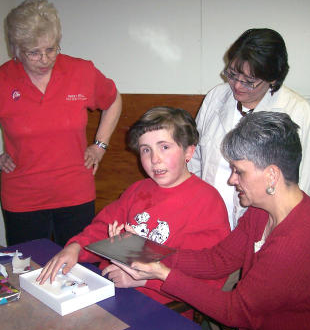 The Deming Elks Lodge #2750, in conjunction with the New Mexico Elks Association Cerebral Palsy Commission, presented a new iPad and case to a local 14-year-old girl with Cerebral Palsy. Lynette VonTress has cerebral palsy and since the iPad is mobile and touch-sensitive, it allows her to work on her learning and education regardless of her location. Lynette and her mother, Lana, were invited to the monthly hamburger dinner at the Lodge, where the gift was presented to Lynette and her family.
Source(s):
1http://archive.demingheadlight.com/ci_20163523/
Web:
www.nmelks.com
Application for assistance http://nmelks.com/wp-content/uploads/2016/12/EDITABLEcpapplication.pdf
Back to top