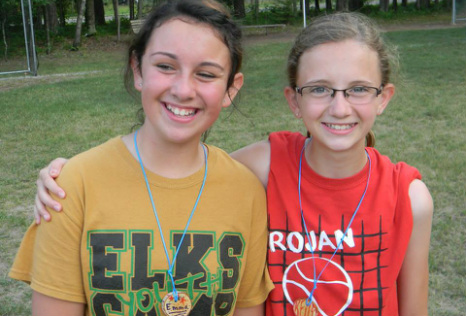 The Minnesota Elks Youth Camp is:
The State Project for the Minnesota Elks since 1954
A 501(c)(3) Non Profit Privately Funded and Owned by the 25 MN Elks Lodges and their Members
Located in Nisswa, MN on approximately 275 acres spanning Pelican Lake, Markee Lake, Stevens Lake and Woodtick Lake
A Seasonal Summer Camp of 7-8 weeks in total divided into a rotating schedule of 1 week per group with 4 to 5 Lodges per group
80 to 100 Campers per week-@600 per summer
Roughly 20-25 staff members each season providing approximately 1:4 ratio of staff to kids
Operated by Seasonal Camp Directors
Run by the elected Elks Camp Board/Chair
Serviced by Year Round Camp Supervisor
Dependent on a lot of Volunteer Labor and Donations
Most campers are referred to local Elks Lodges through adults who know the child's family. Persons knowing young people who otherwise would not have such an opportunity are urged to contact their nearest Minnesota Elks Lodge. The Benevolent and Protective Order of Elks pay all necessary camp fees for campers. Members of your local Elks Lodges arrange transportation to and from the camp.
Campers experience a fun week of swimming, kayaking, boating, fishing, hiking, nature, team building, campfire skits/shows, rock climbing, archery, carnival games, team games, and much, much more. The well-trained staff encourages a fun, safe and nurturing environment, as the ratio of staff to campers is about 1 to 5. Over 300 acres of wilderness near 4 lakes, including beautiful Pelican Lake, offers campers many learning opportunities about wildlife and nature. The Elks have provided a free week at camp for youth and an experience of a lifetime for 60 years. The north woods atmosphere is prevalent with evergreen trees, fresh air, sunshine, wildlife and a large sandy beach.
Programs and activities are planned to provide a fun-filled week and to enhance the campers' love of the outdoors. Qualified staff members supervise all activities. In the unlikely event of personal injury, the camp has its own "Health House" and first aid equipment.
Hospital facilities and a camp assigned physician are just twenty minutes away in Brainerd, Minnesota. Any special medical needs should be noted on the camp physical form.
Campers receive a well balanced diet through our Summer Food Service Program under the U.S. Department of Agriculture. Meals are served family style in our attractive air-conditioned dining hall.
The Minnesota Elks Youth Camp does not discriminate against any person because of race, color, sex, national origin, age or disability.