Welcome to the Elks National Memorial
Attention!
The Elks National Memorial will be closing for the season (for touring by the public) Saturday, November 12th at 4PM. Business offices will remain open.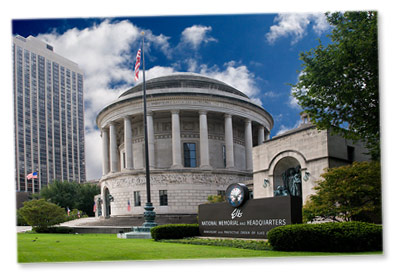 A monument in the truest sense, the Elks National Memorial was built in 1926 to honor Americans whose profound sacrifices for the nation can never be recognized by mere words. With its massive dome, heroic sculptures and intricately detailed friezes, the Memorial is a distinctively American interpretation of classical greatness.
On this website, you can explore the Memorial without leaving your chair. You can read about the building's history or take a virtual tour. When you're ready to come and see the Memorial in person, you can plan your visit, too.
Thank You!
Thanks to the following individuals for their generous online donations to the Elks National Memorial Restoration Trust:
Mack Novosad
Michael Tona
John Lawless
William Hollifield
Carlos Gotay