Lodge Facilities
Banquet Room
Full Kitchen/Catering Available. Simple elegance with a spacious dance floor & bar.
The ajoining fireplace lounge and seperate bar area are available for cocktail hours.
The mansion's classic wrap around front porch adds a place for quiet conversation.
Our custom front patio/lawn area is perfect for ceremonies,
with a spectacular Hudson River backround for pictures.
Our on-site Marina with it's swaying boats completes the ambience.
Full handicap access / ample free parking & coat room complete your experience.
Let us host your affair. For more information or party bookings please call House Chairman at 845-429-8738.
Riverside Deck and Picnic Area
Outside facilities available for Parties. Great view of the Hudson.
Full service on deck cooking and bar area are available.
Host your event outside with spectacular river views or combine with
our indoor dining room for a truly epic experience.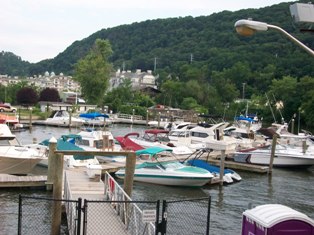 Marina
Adding to the charm or our facility, our on-site Marina
with it's swaying boats adds to the ambience
of your outdoor experience at our facility.
Guest docks are available call for more information.
Member's Lounge
Spacious Bar including Jukebox, Pool Table & Shuffle Board.
Our members lounge is avaiable to members only & their guests.
With a completely seperate entrance & deck it affords our members
access to our facility segregated from hosted events.
---
Back to top