Lodge Facilities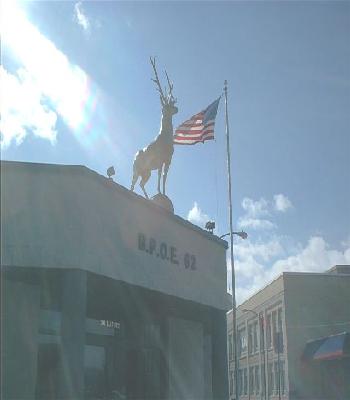 MEMBERS LOUNGE
Our Members Lounge has a full service bar. There is a Dart Boards, card table, big screen TV and several other TV's around the bar area. The Members Lounge is open to all elks and their guests Monday through Friday 12pm – 10pm, Saturday 3pm – 11pm. The lounge may stay open until 1am at any time without notice at the management's discretion.
LODGE ROOM AND BANQUET HALL
The Lodge Room is a spacious hall ready to accommodate parties of up to 150 guests. There are several long folding tables, cozy four seat and two seat tables available to suit any event. In addition to Lodge Fish Fries, Tuesday Night Dinners and Large ceremonies and Membership events the Lodge Room is also available to rent. It is the ideal venue for graduation parties, Family and Office celebrations, Wedding Receptions and after funeral gatherings. The space is connected to our full service bar, and full service kitchen, with plenty of on and off street parking in the middle of Downtown Elmira. The Lodge is one Block from Clemens Center Parkway and less than a mile from interstate 86. To inquire about rental cost and availability call Monday through Friday 12pm- 6pm. (607)733-5659
FULL SERVICE KITCHEN
Our Full service Kitchen is staffed with our very own volunteers. The Volunteers working in the kitchen are knowledgeable and caring of food preparation cleanliness and presentation. It is a delight to see so many Elks working together to bring fantastic meals and support our projects and charities.
NEW YORK STATE LOTTERY
Full Service NYS Lotto including, "Quick Draw" and more. Bell Jar tickets also available, Bell Jar is fun easy and directly benefits your lodge and community.
OFF STREET PARKING
Our Lodge is accommodating with its own parking area located at the rear of the building. Parking is precious in the middle of down town and we are fortunate to have this resource available to our patrons. For large parties and gatherings we are located one block from the municipal parking garage.
---
Back to top