Lodge Facilities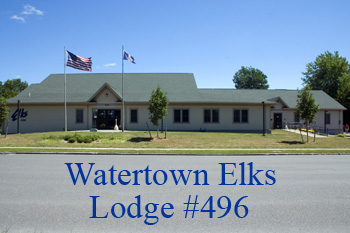 Where we are Located
The Watertown Elks lodge can be found at 728 Bradley Street, Watertown, New York. We are less than a mile from exit 47 off of interstate 81. We are in Jefferson County which is located in northern New York State. The "north country" shares the distinction of being a part of the Thousand Islands Region. This is a destination for recreational activities and tourism for many who have discovered the over 1,800 picturesque islands in the St. Lawrence River Valley. Our Lodge pin, as seen below, celebrates our appreciation for this gorgeous area. We look forward to seeing you soon.
Dining Room and Service Bar
Our new dining room is open and seats an estimated 270 people. It includes a large dance floor and a service bar. The kitchen has been outfitted with new equipment.
At the present our dining room is used by the Lions Club, Kawanis Club, Niagara Mohawk Retirees, Watertown Lacrosse Officials, and most recently Jefferson County Highway Personnel.
Our main bar has access to a TV and game room.
Lodge Room, work is in progress to reflect the proud history of Watertown Lodge #496. ELKS LODGE #496 is a service organization for men and women, growing and providing services for our members and our community.
---
Back to top