Lodge History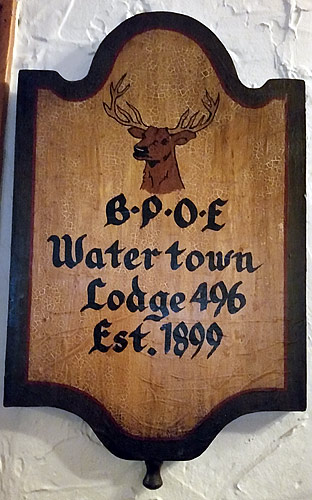 ......In the Spring of 1899, three residents of the City of Watertown - Dr. W. S. Huntington, William I. Mackey and John H. Guest - initiated action to form an Elks Lodge in Watertown. A meeting for this purpose was held with approximately 20 - 25 in attendance. On May 8,1899, a dispensation was granted by Grand Lodge and a Charter was granted on June 22, 1899, with Syracuse Lodge No. 31 as our sponsor. Later in our Lodge history we sponsored Plattsburgh Lodge No. 621 which received its charter on July 25, 1901. Our Lodge also sponsored Ogdensburg Lodge No. 772 in 1912, followed by Lowville Lodge No. 1605 in 1937 and Carthage Lodge No. 1762 in 1948.
......The first meetings of our Lodge were held in the Herald Building. Later we met on the third floor of the City National Bank Building. In 1905 the Lodge occupied Kiva Hall which was located on the second floor of the Franklin Arcade Building, the present site of the YWCA on Public Square. The next move was to the Treadwell Mansion propery located on lower Washington Street until it was sold to provide offices for the Agricultural Insurance Company. Since we were forced to move from that location, temporary arrangements were made with Guilfoyle Annex on Stone Street. In 1921, we purchased the old Post Office Building located at 142 Arcade Street where we made our home until December 9, 1988. We sold the building and purchased the former Margaritaville Restaurant at 728 Bradley Street which is our current home. Since we have been here we have also purchased adjourning properties expanding with the hope of future growth.
......Our present membership stands at 1668, and of the 134 lodges in New York State, Watertown Lodge #496 is the fourth largest. Over the years we have had 7844 members initiated or affiliated into the Watertown Lodge. Our membership continues to grow with a wide and diversified membership that continues to uphold the time honored traditions of this great order.
......Originally our Lodge was part of the Northeastern New York District but as more Lodges became chartered, a realignment was necessary. Sometime in the thirties, our area as designated as the North Central District which was then comprised of the following Lodges: Watertown, Carthage, Oswego, Fulton, Syracuse, Auburn, Lyons and Newark. It remained in this alignment until 1959 when the district was restructured by Grand Lodge with the following lineup of Lodges: Watertown, Ogdensburg, Lowville, Carthage, Massena, Gouverneur, and Potsdam. Later in 1985 Malone became part of our North Central District No. 6240.
......Our Exalted Rulers have served our Lodge well over the past. Several of them continued on to be active at Grand Lodge and New York State Association levels. We have celebrated many memorable occasions. Watertown has had three of its members elected as State President. Starting with Francis P. Hart, Nelson Navarra, and this year Timothy E. Kelly.
......Watertown Lodge over the years has sponsored the appearances of leading figures in the fields of sports and in entertainment, including George Herman "Babe" Ruth, Larrupin Lou Gehrig of the New York Yankees, and Craig Conroy noted NHL hockey player, the Boys Town Choir from Father Flannigan's Boys Home, the U.S. Military Academy of 90 voices, the Ladies from Ladycliff College and many others. On the field of play and in the concert halls, we have been well entertained and thank all who have played a part in these areas.
......Our history proves that many special kids programs have been offered by our Lodge. From Hoop Shoot programs to our local and State sponsored golf and bowling tournaments. Our sponsorship of a Boy Scout troop has produced many Eagle Scouts as well as many who have gone on to be outstanding members of our community. We are now proudly sponsoring Girl Scout programs. You name the sport or activity that is involved with our youth and the name of Watertown Elks Lodge will be in there some way.
......Watertown Lodge 496 is very proud of what it has accomplished thru out its history of over 105 years. It is a service organization for men and women, growing and providing services for our members and our community.
---
Back to top