Lodge Facilities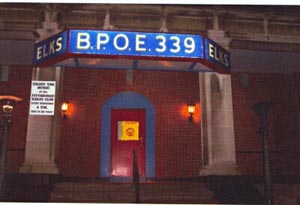 ALLEGHENY ELKS
Hours of operation: The Lodge is regularly open every Wednesday during the Pittsburgh Banjo Club's weekly event, before and after the Thursday members' meetings, and Fridays from 6-10+ PM. Check the calendar in your monthly Lodge newsletter for other special events.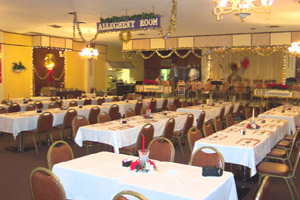 ALLEGHENY ROOM
Our rental hall is available to Lodge members, Elks from other Lodges, commnity organizations, nonprofits, and local businesses. The best deal in Pittsburgh for your Anniversary, Birthday, Graduation, Holiday and Cocktail Parties, Office Meeting, Reunions, Showers, Weddings, and After Funeral Brunches.
For rental information please email booking@alleghenyelks.org or leave a message at (412) 321-1834.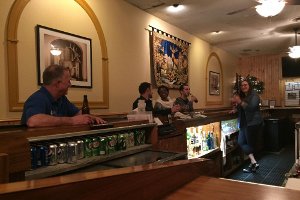 ALLEGHENY LOUNGE
Our Lounge includes a full-service horseshoe bar, Hi-Def TVs, and a free jukebox. Immediately adjacent to the Allegheny Room, it is available as additional space for party and event rentals. The Lounge doubles as our Lodge's social quarters for members when not in use by an event.
ALLEGHENY ELKS BOWLING ALLEY
Allegheny Lodge #339 operates a six-lane bowling alley on the 2nd floor of its Lodge, with bowling leagues most nights of the week. Event/party rentals are available during the hours outside of league play. Bowling season runs from the first of September through the end of April, and shuts down for the summer for repairs and preventative maintenance. For more information call the Lodge at: (412) 321-1834.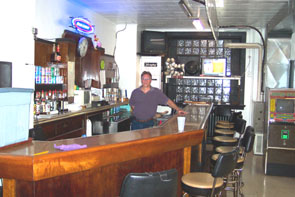 BOWLING ALLEY BAR
The Bowling Alley also has a refreshment area including a bar that is open during the bowling season. Elks are welcome in the Bowling Alley Bar on any night the lanes are open and the Allegheny Lounge isn't. For more information contact the Lodge at (412) 321-1834.
RATHSKELLER
We have a Free pool table and a large screen TV in the Rathskeller that is open to Elks members whenever the Allegheny Lounge is open.
PARKING
Street parking is available on all streets near our Lodge. Note that most parking is a 2-hour Residential Parking Zone until 7PM, but the entire side of Cedar Avenue across from our building is a metered parking zone during the day and free after 6PM. Please do not park in the Giant Eagle parking lot next door. They will ticket and tow you. Four curbside bicycle parking racks are available.
---
Back to top