*** PAY YOUR DUES ONLINE ***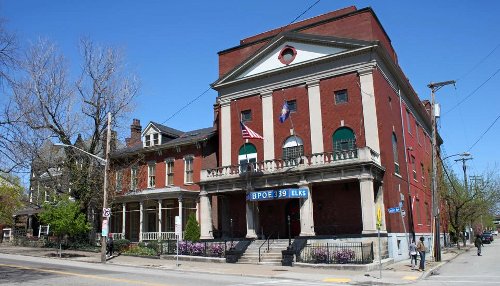 400 Cedar Avenue, Pittsburgh PA 15212
(412) 321-1834

Conveniently located near PNC Park, Acrisure Stadium, and Downtown Pittsburgh, in the heart of the North Side's historic Deutschtown!

Lounge Hours:
Wednesday 7 - 11 PM — The Pittsburgh Banjo Club's Banjo Night (Doors 7pm, Band starts at 8pm, food until 9:30pm)
Thursday 7 - 10 PM — Members' Lounge Open
Friday 6 - 11 PM — Members' Lounge Open - Accordions Likely most nights
Sunday — SPECIAL EVENTS AND HOME STEELERS GAMES ONLY (4 hours before kickoff)

Lodge Meetings:
Next up: October 6th & November 3rd
then Every 2nd Thursday at 8PM
Additional meetings on 4th Thursdays in February, March, and April
Bowling Season is Sept 2022-April 2023
Now open for Leagues and Members. Available Lanes for Member Bowling on Wednesdays, 2nd Fridays and 4th Fridays. bowling@alleghenyelks.org for more info.