Lodge Facilities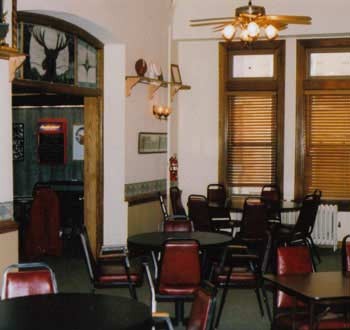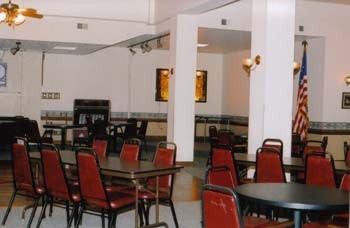 Marion Elks 32 Dining Room
In 2000 the Dining Room was remodeled with an "elegant 1920's," theme. The six windows were uncovered, and their natural oak woodwork restored. Sconce lighting was added to the walls, and lights with fans installed in the ceilings. A previously covered archway between the Dining and Clubroom was discovered, and a beautiful stained glass Elk added above it. All complimented by new carpet and by adorning the walls with historical Marion Elks 32 photography from our dusty archives.
Kitchen is open Tuesday, Thursday, Friday and Saturday -- 6 PM to 9 PM.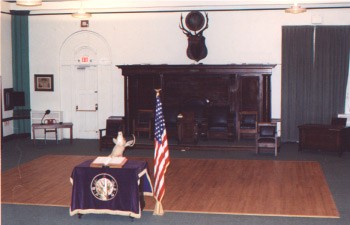 Marion Elks 32 Lodge room
In 1914, the Marion Elks built a new building, with the third floor expressly designed as a Lodge Room. This was completed at a cost of $60,000. The Lodge Room, recently repainted to match its original 1914 color scheme, still boasts its original oak seating, officer's chairs, alter and ornate Elks brass door hardware.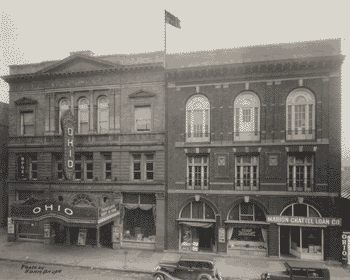 Marion Elks 32 Building
In 1910, the Grand Opera House on South State Street in downtown Marion suffered a major fire. As Marion Lodge 32 had previously purchased the adjacent lot, it was decided to purchase the burned theater building, renovate it, and erect a new building beside it (to the right in the picture) to house business rental properties on the first floor, a Club Room on the second floor, and a Lodge Room on the third floor. This, the current home of the Marion Elks Lodge 32, was completed in 1914 at a cost of $60,000.
---
Back to top