Lodge Facilities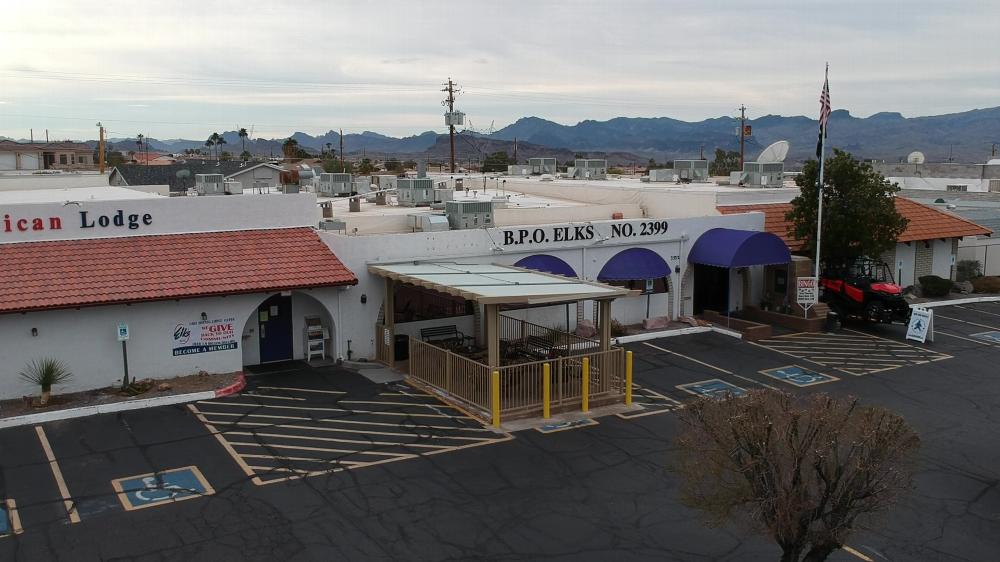 RV Parking
We have 25 full hookup (FHU) Sites with 50/30/20 amp electric service. For stays Oct through May, the per night fee is $32. For stays June through Sept the fee is $35 a night (summer electric rates).
During RV Peak Season (Oct - May), Reservations are recommended. However, if no FHU sites are avaialbe, dry camping sites are available on a first come, first served basis.
To make a reservation from Oct 1 through May 31, call 928-230-0980. (Please, no reservation calls before Oct 1) When you call, please be prepared to provide your Name, Lodge Number, Membership number including the expiration date (mm/yy) the Date In / Date Out, and your telephone number to the Camp Host taking your reservation. No emails please!
Off Season RV Parking (Jun-Sept) Reservations are not available during this period. It is first come, first served. However duriing this period finding an open RV site shouldn't be a problem.
Please Note: It is your responsibility to have your valid Elks Membership Card in your possession to check-in at our RV Park and to gain admission to our Lodge Social Quarters
Under "More Info" please see RV Parking for more detail.
About our Lodge and Lake Havasu City
Our Lodge's social quarters are open seven days a week. We have a large bar/lounge and serve Lunch and Dinner six days a week ( Monday - Saturday)
Lake Havasu City has many local attractions. There are six golf courses, our world famous London Bridge, Lake Havasu and Colorado River for boatiing, swimming and fishing. Numerous off road trails in the area to explore. Or you can take a scenic boat ride to the casino just accross the lake for gambling, lunch or dinner.
We have a number of local events each year in our area. The Hot Air Balloon Festival (Jan) The Pyro fireworks event (Feb) Winterfest (Feb), Christmas Boat Parade (Dec) plus various boat races, music festivals etc. there's always something going on in Lake Havasu.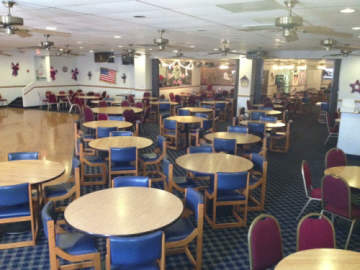 Dining Room
Our Dining Room Menus are posted on our lodge website. www.elks2399.com
Lunch is served Tuesday - Friday 11 am - 2 pm
Dinners are served Monday thru Saturday.
Monday - Spaghetti, Lasagna, or Fettuccine 4 pm - 7 pm
Tuesday - Taco Tuesday! 4 pm - 7 pm
Wednesday - Our World famous Baby Back Ribs.You'll love em! 4 pm - 7 pm
Thursday- Broasted Chicken, Meatloaf, Fish & More 4 pm - 7 pm
Friday & Saturday - Full Menu. including our delicious Prime Rib & Specials! 4 pm - 8 pm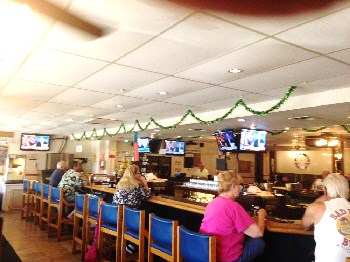 Our Fully Stocked Bar
Our professional bar staff do their best to make sure you get a great drink just the way you like it. Our friendly Cocktail waitresses are available to serve you in the Dinning Room.
Dancing and Live Music
Dancing wirh live music every Friday & Saturday nights, Country Line dancing Monday nights and Karaoke on Thursday. Please check our Lodge Calendar for schedule music and updates.
There's always something going on at the Elks!
Kitchen with Monday Night Pasta Crew
Authentic Italian Cuisine....well almost! Your choice of Spaghetti, Lasagna or Fettuccine give our Members a good choice of pasta with a side of garlic bread.. There's always a crowd that shows up from 4 til 7 PM each Monday night to enjoy the food and to play our Queen of Hearts game..
---
Back to top