Lodge Facilities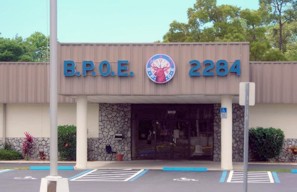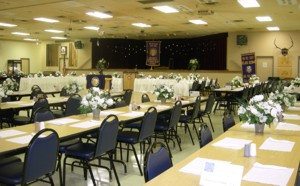 Rental Hall
Our Lodge is equipped to cater a full range of events from a casual boxed luncheon to an elaborate wedding reception. The rental hall can accomodate groups up to 450 people.
We offer ample parking, two full-service bars, a large commercial kitchen, elevated stage, oversized hardwood dance floor, mirrored ball and effects lighting.
______________________________
This seating option allows for up to 12 guests per table.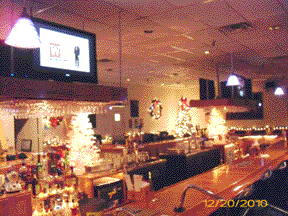 The Lounge
With an oversized, sunken bar, stage, dance floor, effects lighting, new sound system, extra comfortable seating, and six TVs above the bar, we proudly claim that Elks 2284 has the nicest lounge in the County!
To download a pdf version of the Lounge seating layout to your computer, go to the "News" tab and click on "LOUNGE SEATING LAYOUT".
The stage and dance floor area in the Lounge
Dinner and dancing in the Lounge is enjoyed by members and guests.
---
Back to top