Lodge Facilities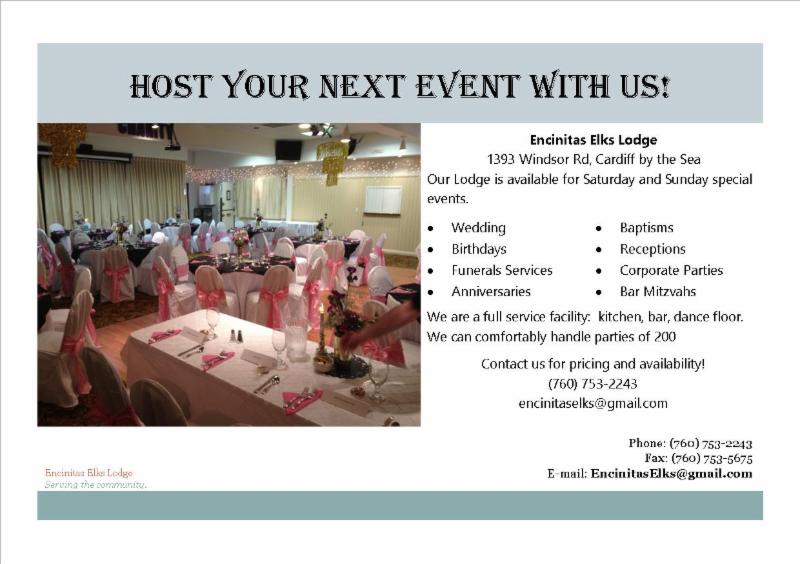 Social Room and Bar
Social Room/Bar open:
Monday, Tuesday, 4pm - 8pm*
Wednesday 4pm - 6pm only (Charity Bingo Night)
Thusday, 4pm - 9pm*
Friday 4pm - 11pm
Sunday 4pm - 8pm (when Big Band plays only)
*Bar may close early if not in use by members and their guests on M, T, TH
The social room and bar is open to members during most additional events on Saturday and Sunday.
The lounge and bar is open to members during special lodge activities on the weekend or at other times.
Lodge Meals
Monday Evening:
Monday-Funday Food (during football season) 5pm - 7pm (or until food runs out) $5.
Wednesday Evening:
Small menu available from the window on Bingo Night beginning at 5pm. Pricing varies.
Thursday Evening:
Dinner 6:30pm ($8-$12 depending on meal)
All meals are subject to change without notice.
Lodge Office
Office Hours:
Monday, Tuesday, Thursday and Friday Summer Hours 3pm - 7pm.
Closed Wednesday.
Additional hours on request.
Lodge Tel: 750-753-2243
Email: encinitaselks@gmail.com
Charity Bingo
Wednesday Evening:
Charity Bingo
Play begins at 6:30pm sharp!
Come early to purchase bingo package, get seating, purchase food from the window.

Bar hours 4pm-6pm only
Hall Rental
Banquet Room
The Windsor Room is a mutli-function room which has banquet seating for up to 120 guests. The room features a dance floor, stage, disco ball, and audio visual equipment. Our ktichen is available for caterer staging. Bar is available for service.
Meeting Room
Available for small and large meetings. Audio video equipment for an additional fee.
Outdoor Patio
A small patio seating area is available for additional uses. (No alcohol ouside)
Please contact Sandy at (760) 753-2243 or encinitaselks@gmail.com for Hall Rental Information, to visit our Windsor Room, or book your date.
---
Back to top