Lodge #2243 Home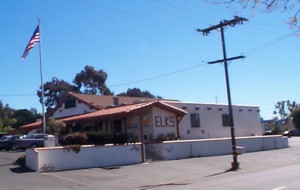 Encinitas Elks Lodge #2243
The Lodge With The Most On The Coast
Welcome to the Encinitas Elks Lodge. We are located at:
1393 Windsor Road, Cardiff CA 92007...less than a mile from the beach as the seagull flies.
Come join us and become an Elk, the greatest organization on Earth. You can also rent our facilities for your next event.
Meetings: Our Lodge Meetings are held on the 2nd and 4th Tuesday of the month starting at 7PM.
Lodge Contacts: Exalted Ruler: Ken Hume; Elks2243ER@gmail.com
Lodger Secretary: Bill Vance; encinitaselks@gmail.com
Cyber-Assistant: Jason Foster, Leading Knight; jsnfstr@gmail.com
Lodge Office Hours: Monday, Tuesday, Thursay and Friday summer hours are 3PM to 7PM. Office is typically closed on Wednesdays. Appointments are available upon request. Please contact our Lodge Secretary at 760-753-2243 or by email at encinitaselks@gmail.com to make an appontment outside of normal hours.
Our social quarters and bar is typically open:
Monday, Tuesday - 4PM to 8PM Wednesday - 4PM to 6PM...with Charity Bingo starting at 6:30PM SHARP!
Thursday - 4PM to 9PM Friday - 4PM to 11PM...with bands and dancing starting at 7PM!
Saturday - closed for private events Sunday - 4PM to 8PM with Big Band party and dancing
Hall Rentals:
Our Widnsor Room is a multi-function room which has banquet seating for up to 120 guests. The room features a dance floor, stage, disco ball (for all you throw back partiers), and audio visual equipment. Our kitchen is open for catering staging and the bar is available for service. Please contact our Lodge Secretary at 760-753-2243 or by email at encinitaselks@gmail.com for additional information and to make a reservation.
Lodge Meals:
Monday's are "Funday Food" during football season from 5PM to 7PM...or until all the food is gone! Cost is typically $5
Wednesday's offers hot food from our kitchen counter on Bingo nights beginning at 5PM. Pricing will vary.
Thursday's are dinner night in the Windsor Room. Dinner starts at 6:30PM and pricing will vary depending on the offerings. Please check the lodge calendar for more information.
---
Back to top