Lodge Facilities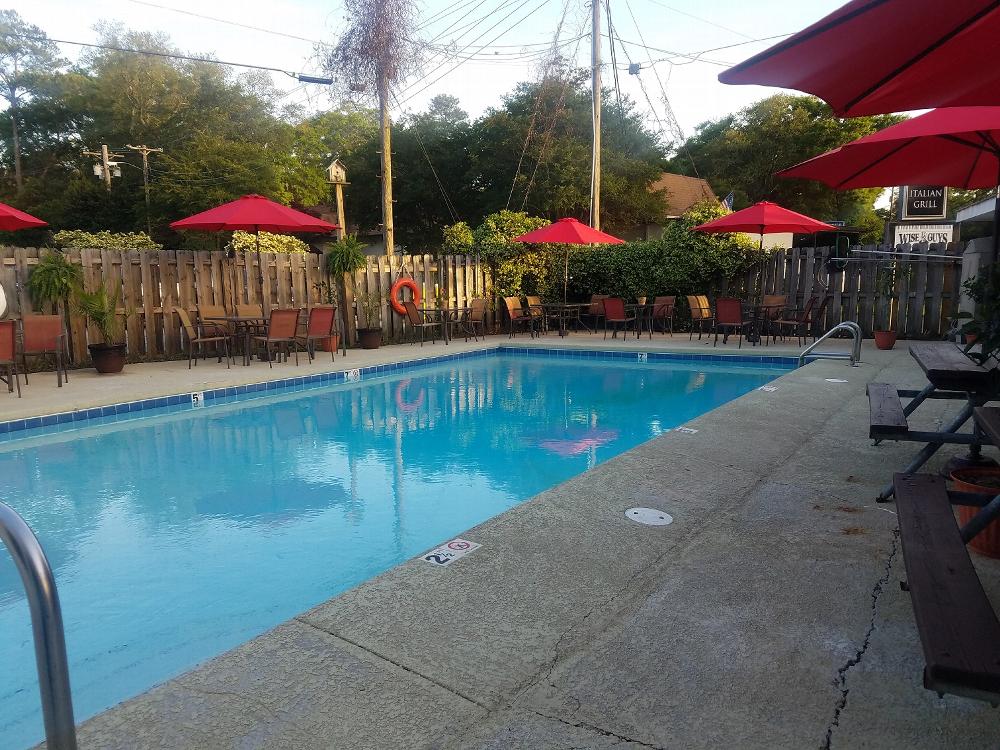 FAIRHOPE ELKS POOL
Our pool is open April through October, weather permitting
2021 ELKS POOL RULES
1. All guest(s) to include children, grandchildren, family member and/or friends MUST be accompanied by an Elk or Emblem when visiting the pool.
2. All guest(s) over 21 MUST be signed into the guest book. You may bring guest with you at no charge.
3. Children under the age of 12 are not to be left unattended in the pool area at any time.
4. Proper attire must be worn when entering the bar area. Shirts, swim cover and shoes are required. A towel is NOT a cover-up!
5. ALL alcoholic beverages must be purchased from the bar per ABC rules and regulations. Food and nonalcoholic beverages may be brought in the pool area.
6. NO glass in the pool or pool area. All drinks must be in cans or plastic cups per Health Department Regulations.
7. All pool parties are to be entered on the calendar in the bar and approved at least two weeks prior to the event.
8. Please clean up after yourself and you guest(s). Help us keep the pool area nice and clean.
9. Failure to adhere these rules can result in loss of pool privileges.

FAIRHOPE ELKS LOUNGE
Lounge opens at 5:00 pm. Monday & Wednesday - Friday and at 1:00pm on Saturday & Sunday. Lounge offers a full service bar including a new triple frozen beverage machine. We offer beverages, snacks and pizza ... 6 days a week in the Lounge. We are CLOSED ON TUESDAY.
We have 2 pool tables and a regulation table shuffle board.
Lounge Manager is Sherry Amerson ... Bartender is Karla.
FAIRHOPE ELKS DINING
We do not offer full-time food service, but do offer Burgers every Monday night and Dinner Menu every Friday night:
Monday Night BURGERS ... Join us on Monday's for BURGER NIGHT. Served every Monday at 6:30 pm. Choice $7 burger or cheese burger. fries or onion rings. Dine-in or take-out. 251-928-9120

Welfare Wednesday Dinner served at 6:30pm. $10 per plate. Different entree served every Wednesday with a side and dessert.

First Friday Fried Chicken night, serving at 6:30 pm. 1/2 a fried chicken, served with mashed potatoes & gravy, Cajun green beans and dessert. $12

2nd Friday Steak Night at 6:30 pm. Steak & baked potato with mixed green salad and roll. $18

3rd Friday Fish Fry at 6:30 pm. Crispy fried cat-fish filets served with baked beans, cole slaw & hush puppies. $12

4th Friday Emblem Supper served at 6:30 pm. Pork Chop, mashed potatoes with gravy, green beans and roll. $12 (1 chop) or $150 (2 chops)
Our Kitchen is fully equipped and can cater your special needs, up to 100 people.
---
Back to top