Lodge Facilities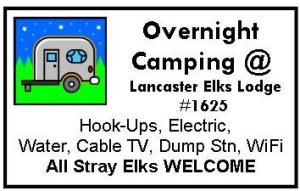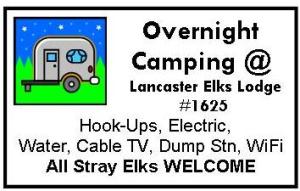 Roaming Elks RV Park, 240 E. Ave K, Lancaster, CA
Lancaster, CA #1625
Our Lodge welcomes all Elks and their guests to our Lodge and offer use of our "Rage of the Sage" Elks Park. Check out our Web-Site (for map and other amentities): www.elkslodge1625.org E-Mail the Lodge at: dominicrotell@yahoo.com to reserve spaces, or call the Lodge Office at (661) 942-1625.
Back-in treed spaces for 43 wide RV's w/hook-ups for 30 Amp service, water, and electricity. We can accomodate up to as many as 60 rigs. On-site restrooms and shower for your use. We have a picnic area with tables and benches, two stationary BBQ stands and a horseshoe pit. Donations gladly accepted of $20.00 per night. We also have spaces for 20 self contained RV's of a $8.00 donation. Donations include use of our on-site Dump Station.
Upon arrival, please sign our Guest Book in front entrance, register your RV for space location with our Lodge Office, or our bar.
We have a night lighted RV Storage area, if you require one.. Check at office, or bar.
Office hours: M-F 9:00 to 4:00 pm. Lounge new hours: Sunday, 9:00AM, except on special occasions to closing. Mondays, 11:00AM to closing. Tuesday to Saturday, 2:00PM to closing. Sunday Breakfast starting at 9:00AM, except on special occasions. Meetings: Every Tuesday at 7:00pm.
Elks Rage of the Sage Camper Club
"ELKS RAGE OF THE SAGE" CAMPER CLUB
Club Officers
Chairman: Bill Brehm, Ph: (661) 944-9620
Vice Chairman – Vacant
Recorder: KJ Miller, Ph: (661) 270-1142
Treasurer: Bee Wright, Ph: (661) 609-6376
Merchandise: Lenny Guerra, Ph: (661) 857-0746
"RAGE OF THE SAGE" CAMPER CLUB OUTING SCHEDULE
For 2019
February 6-19
Orange Grove RV Park, 1452 S. Edison Rd, Bakersfield, CA 93307
$39.00 per night, or $33.00 w/AAA
15 spots reserved. More available.
Wagon Masters: Bob & Lori Hancock
March 6-10
Santa Barbara Elks Lodge, Santa Barbara, CA 93311
Location: 150 Kellogg
$25.00 per night. Few Spots Left.
April 7-12
"Havasu Happening"
Location: 601 Beachcomber Blvd, Lake Havasu, NV 86403
May 3-5
Lodge "Car Show" Campout
Location: Lancaster Elks 1625 RV Rest Area, 240 East Ave K
$20.00 per night
Wagon Masters: KJ & Sandy Miller
May 30- June 2
"Santa Maria Annual Rodeo"
Location: Santa Maria Elks Lodge RV Rest Area, $220.00 per space for two Guests.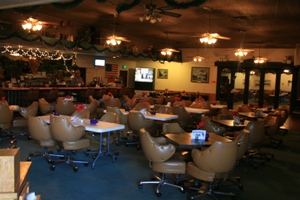 Trophy Room Lounge
We are the friendliest Lounge in all of California, 2nd to none, with a long bar. Come in to relax, enjoy, and have a drink or two at the tables or the front bar. GUESS WHAT? We have "NEW BAR STOOLS" courtesy of some of our members who purchased them. Our ER Darin Combs & Debbie Driver unpacked, assembled, took out the old, & put in the new Stools. Meet old, and new friends. One large TV and one small screen are provided for you to enjoy your favorite Sports.
Say hello to our bartendresses Sondra, Dawn and Lori. All Elks and their guests are welcome.
Sunday Morning Breakfast
Come join us at our SUNDAY BREAKFAST, 9:00 AM to Noon. Proudly cooked and served by the Rage of the Sage Elks Volunteers. You'll not be disappointed. Come in and meet some of our members, their ladies and friends.
Elk Volunteers Famous Fish Fry
"We are famous for our Thursday Night scrumptious Fish Fry (mid-January through mid-November) and hope you will join us for a wonderful Icelandic Cod Dinner".
The Best Fish Fry in all of California. On the 2nd & 4th Thursday of each month from 5:15 - 8:00PM. Fish & Fries with Coleslaw, Coffee, or Iced Tea & Dessert. Elks, Members, Families and Guests Welcome. Cocktails available. No Reservations are needed, however, we've had numerous good turn-outs of 150, or more. So when ya'all come, be patient, have a cup of coffee, or whatever while you wait, unless ya'all get lucky, cause someone has to cook and serve you. "Our fish fry volunteers", They're human too. Enjoy, and visit with members, their ladies, and guests.
Chairman Lenny Guerra & Bee Wright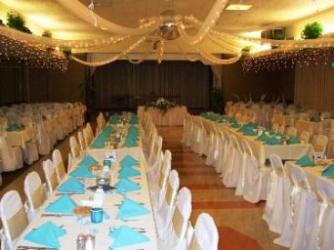 Banquet Room-Catering
If you require a large facility for private parties, weddings, receptions, or other occasions? Room for a DJ, or small band on stage. Details and appointments can be arranged through our Lodge office at (661) 942-1625.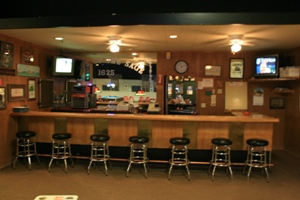 Sports Bar
Come on in and see our new Sports Bar. Enjoy a beverage and snacks and watch any of the five sports TV's. In addition, we have Wii capability and games are provided. You may bring your own games and/or movies if you wish. If you prefer, we have four dart boards, three pool tables and shuffle board.
---
Back to top