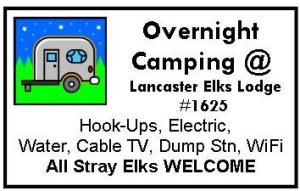 Elks Rage of the Sage Camper Club Established November 2005. A committee of Lancaster Elks Lodge #1625 "Dedicated to Having Fun While Supporting the Lodge".
" MEETINGS ARE ON THE 2ND MONDAY OF EACH MONTH" at 7 pm
Call, or E-Mail any Club officer for information regarding the club. Chairman: BILL BREHM, Ph: (661) 733-2840; Vice Chairperson: Vacant Recorder: Pam Guerra 661) 510-8888; Treasurer: Bee Wright: Ph: (661) 609-6976; Merchandise: Lenny Guerra. Ph: (661) 857-0746.
2022 Rage of the Sage Camper Club Outing Calendar
Feb 02-06 Santa Barbara
April 04- 08 Havesu Happenings
May 04-08. Lone Pine
Dec Club/Lodge Christmas Party Date & Time TBA