Lodge Facilities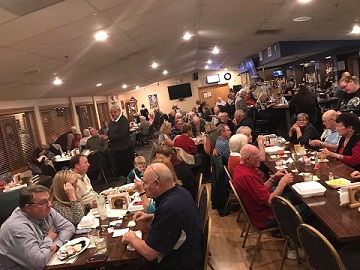 Our Lounge
Welkome! Our social area is just one of the many features of our great lodge, where members and guests gather to feel welcome and safe from the pressures of the outside world. Our staff is always friendly and helpful to make sure that your stay is a pleasant one. We always have many events happening in our lodge for you to be part of or sit back and just enjoy as a social member. There is a pool/billiards room, conference/card room, stage, dancefloor, 3 big screen tv's and always FREE POPCORN!
Currently open Tuesday thru Saturday, we open to the public for lunch each day from 11am to 2pm. Breakfast is served as well on Wednesdays beginning at 8 am. Dinners vary each night: (Hamburgers, Tacos, Pizza, Soup & Salad bar - see the calendar page) typically from 5 pm - 7 pm. Friday Night Dinners vary serving Fish an Chips, Steak, Prime Rib and other specials Fridays also are for Elk Races to help add to the nights fun. Two Fridays each month, we offer "fine dining" with a special menu, wine service, desserts and more.
Our Hours of operation are: Tuesday, 11am - 9pm, Wednesday, 8 am to 9pm; Thursday, Friday & Saturday - 11 am - 9 pm. We are closed on Sunday and Monday. (Hours may vary due to special events)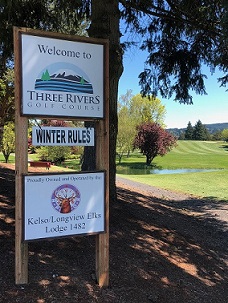 Three Rivers Golf Course
Our Lodge proudly owns and operates the Three Rivers Golf Course, one of the leading courses in the Pacific Northwest. It is playable year around and is known as the driest golf course in the region, during our wet northwest winters.
Built in 1981 on Mt. St. Helens ash (river dredge spoils,) it is a championship 18 hole, par 72 course. Three Rivers features a driving range and practice green, a fully stocked pro shop, locker rooms and the Scotty Dog Cafe, where we offer various breakfast and lunch menus and premium beer and wine.
Our Staff includes PGA professionals knowledgeable in all aspects of the game. We offer Golf lessons, and can supply answers to any question about the game of golf. Located at 2222 So. River Road in Kelso, call (360) 423-GOLF for a tee time or visit GolfNow.com
For tournament and other event information and planning, call our Golf Manager, Lance Satcher at (360)423-4653 or email: lancesatchergolf@gmail.com
Ballroom/Lodge Room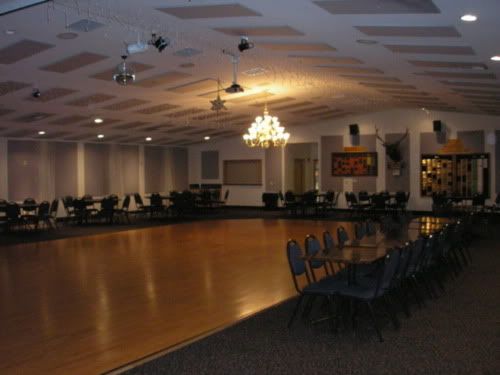 Our multi-function Ballroom / Lodge room helps our members enjoy all aspects of being an Elk. From Lodge meetings to large dances and events the ballroom is the pride of our lodge. This facility is always in use for lodge functions, as well as numerous community functions and private rentals.
For details on event rentals and to reserve your party, call our Club Manager Amber at 360-425-1482 or email: amber.elksclubmanager@gmail.com
Pepper Martin RV Park
Like many Elks Lodges nationwide, we operate a small RV parking area for Elks members to enjoy. We offer 13 spaces with water and electrical hook-ups to help you enjoy your stay with us. There is a dump site available to help you get ready for the road ahead.
Our park is just off the I-5 freeway and close to many convient tourist sites, as well as grocery stores, restaurants and shopping in our wonderful cities. We are just an hour away from Mt. St. Helens Volcanic Monument and the Pacific Ocean Beaches. Our local Three Rivers Golf Course is just 10 minutes away, along the Cowlitz River. Our lodge is equiped with WI-Fi in case you need to check your E-mails and get caught up on whats happening at home.
To check availability call the Lodge office: (360) 425-1482 or email: elkoffice1482@comcast.net
---
Back to top