Lodge Facilities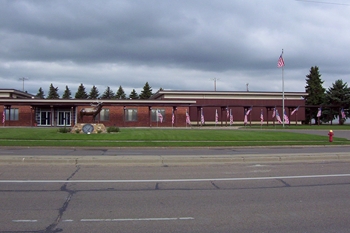 Teddy Roosevelt Bar
The famous "Roosevelt Bar" originated in St Louis, Missouri and [later was hauled up the Missouri River] to Pierre, Dakota Territory. The bar was on the move for a number of years. It was shipped to the Black Hills Territory, to Mobridge, Dakota Territory, to Medora, Dakota Territory, [probably by steamboat to Bismarck where it was transferred to Northern Pacific Railroad which completed it's line to Medora in 1883] to Wibaux, Montana [again by the Northern Pacific Railroad]. Montana became a state in 1889.
The massive wood-columned mahogany bar in the Elks #1199 was once frequented and patronized by Teddy Roosevelt and Tom Mix. Teddy Roosevelt lived in Medora during the early and middle 1880's. He came to the Dakota Territory for his health and to hunt buffalo. He became a United States Marshall and organized a Stockman's Association to protect the ranchers from cattle rustlers. The bar soon became a famous hang out for Tanner's Law Men, who used it for gatherings and to exchange information. Information gathered from various sources informed Judge Bruce and Dorothy Van Sickle that Roosevelt would ride his horse right into the Wibaux bar room.
When national prohibition was repealed and 3.2 beers became legal, William John Rigg of Bismarck learned of the history of the bar and made a trip to Wibaux to purchase it in about 1910. Mr. Rigg was convinced the history and stories about the famous bar was true and accurate, and promptly purchased the bar and moved it to Bismarck to the Lenhardt Building on Broadway. There they served 3.2 beer and had games and dancing. Later, when liquor became legal in North Dakota, they secured a license and the Roosevelt Bar became a full-fledged bar again. At the time Rigg purchased the bar it was painted white and he had it completely refinished to natural wood after it was moved back to Bismarck.
William Rigg had gone to Fargo to purchase equipment for the liquor store. While returning to Bismarck, he was killed between Dawson and Tappen in 1930.
During the time Rigg operated the bar, he never allowed his wife, Rose, to enter the premises. However, upon his death Rose was forced to operate the bar to make a living for herself and her 14-year-old daughter, Mary Katherine.
She later met Donald Tarbox and they were married about a year after Rigg's death. After that ceremony, they moved the bar into the Hinckley Building just north of the Grand Pacific Hotel. [At the time of the GP hotel expansion, the city condemned the Hinckley Building, which housed the Roosevelt Bar and the Reff-Conlin Furniture Store. The foundation of that building has been weakened when the hotel was torn down. ]
The owners of the GP Hotel, John and Vernon Peterson, purchased the old building and lot. Rose Rigg Tarbox sold their liquor license to the Tjaden Corporation who built the Holiday Inn in 1961. The owners of the Holiday Inn did not need the bar and equipment and sold it to the Elks Lodge. This historic bar went into storage. It appeared at times that it might be relegated to the dump. Eldon Anderson, who stored the fine old bar, gave concessions to the lodge on the storage bill and the Lodge decided to retain it.
After planning a re-design of their building on North 4th, and investigating many other possibilities, the trustees abandoned all remodeling plans and started over by purchasing 13 acres and building our present home on south Washington Street. [That street was nothing more than a graveled country road leading to Sibley Island Park.] By this time, the now famous Roosevelt Bar was becoming more valuable each day. The Elks trustees decided to relocate [and install the "old Roosevelt Bar" in the upper] bar in the new Lodge building.
The rest, as the saying goes, is history. Since 1966, thousands of Elk members have enjoyed this bar, the same as Teddy Roosevelt and Tom Mix did many years ago.
FOOD: T R Bar and Grill, many kinds of tasty meals for your dining pleasure.
Wednesdays, - Burger Night - Summer months - 6:00 to 8:00 p.m. - May to September
Saturdays, - Sea Food Buffet: 12:00 to 2:00 p.m., November to April
Dining
DINING ROOM · Hours: 5:30 p.m. to 9:00 pm Thursday through Saturday. Reservations accepted for small, medium and large groups. i.e.: Christmas Parties · Call the office to reserve the room, talk to the Mgr. or Asst. Mgr. · Evening Daily Specials -Saturday Seafood - November through March
Locker Rooms
MEN'S LOCKER ROOM · Weight room · Lockers, for rent · sauna · steam bath · out side entry, [joggers can come and go from that door] Next to 37 miles of walking trials in the Twin City area. WOMEN'S LOCKER ROOM · Weight room · lockers · sauna · outside entry · TV- for exercise videos · lobby Call Lodge office for price to obtain Locker room key.
RV Parking
RV Parking is available in the large Lodge parking Lot. No hookups are available.
Billards
Four tables are in the Lodge for your enjoyment. Small player fees are required for each game. Located near the Teddy Roosevelt Bar and Grill.
Cards
Large card room for your enjoyment.
Lounge
Large Lodge Room that can hold well over 200 persons for a banquet. Modern lounge that exceeds your expectations. Meeting rooms to meet your every needs. Lodge Room for large meetings. Beaudoin Room for mid sized meetings. PER Room for your small group meeting needs.
All Season Porch
Added in 1999, the All Seasons porch gives you the feeling you are outdoors, but affords you the comforts of your living room in all kinds of seasons. Hold your special party in this room. You'll be glad you did.
Bridge
Bridge Clubs meet every day of the week. Call the Lodge office for more information.
PER Room
A place to hold a meeting for smaller groups! Can hold up to 15 persons.
Beaudoin Room
A beautiful room in the basement that can hold approximately 75 persons for meeting, parties, and mid-sized groups. You have to see this to appreciate it's beauty. Elks Chorus meets here every Tuesday evening, 7:00 to 8:30, September to May. If you like to sing, join them.
---
Back to top