Lodge Facilities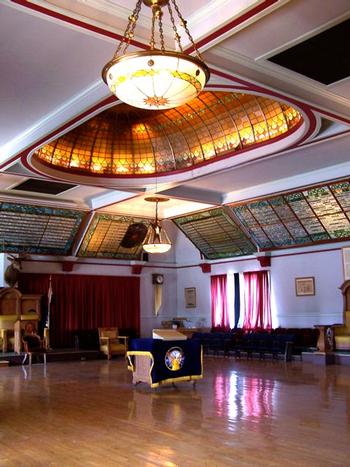 Clubroom/Bar
Full-service lounge/bar with the friendliest bartenders in town. The lounge includes a pool table, big-screen TVs, sound system, and pull tabs. Hours: Tuesdays and Wednesdays we are open 2 p.m. to Close. Thursdays and Fridays open Noon to Close. Saturdays and Sundays open Noon to 5 p.m. unless there is a special event (sports, etc. Check calendar). Mondays closed except for Lodge meetings (1st and 3rd) , 6 to 9 p.m.
Due to the COVID 19 pandemic, please check back periodically for possible changes in schedule. Our entire building is smoke-free.
Food nights are Taco Tuesdays and a different menu every Friday 5:30 to 7 p.m. Pizza available daily from the bar.
Dining
Come on over for dinner on Fridays from 5:30 to 7 p.m. Our menu might include steak, ruben or pork loin sandwiches, lasagna, potato bar, burgers, pizza and much more. All meals cooked fresh on-site. Many dinners are $6.
The Jack of Spades drawing has resumed Friday evenings at 6:30. All Elks members are eligible to play.
Ready-made personal pizza is always available during club hours.
RV Overnight Parking
Level paved parking lot offers four electrical hookups: three 220/30 amp and one 220/50 amp. $20 donation per night. For more information, contact Secretary Patti Evenson 970-243-0675, elks575@gmail.com.
CAUTION LONG RIGS! Entrance to the parking lot crosses a deep gutter. Enter the parking area slowly at an angle to prevent dragging your tail.
Facilities Available for Rent
Looking for a comfortable, memorable place for meetings, parties, special events? Our beautiful historic Lodge is available for rent. Lodge facilities include a large ballroom, various smaller rooms, commercial kitchen and dining room seating for 200. Facilities are available for weddings, reunions, business meetings, conferences, seminars, etc. Room rental rates are as follows: Ballroom - $400 for up to four hours, and $100 for each additional hour. Wapiti Room - $300 Banquet Room - $300 ELKS MEMBERS GET A 10% DISCOUNT ON ANY ROOM RENTAL! For more information, contact the Lodge secretary at 970-243-0675 or email elks575@gmail.com.
---
Back to top