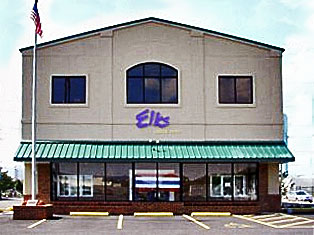 Elks Lodge #2645
Ocean City, Maryland
Lodge #2645 is located on the corner of Sinepuxent Avenue and 138th Street in North Ocean City. Our Lodge has a full functioning Bar, Restaurant and Banquet Hall. Our second floor Banquet Hall is city-permitted for the seating of 180 persons. With a fully functioning kitchen, bar, and built-in PA system, the newly renovated Hall is suitable for receptions, parties and meetings. Please contact Jim Harbour(410 430-6424 Cell) or Fred Willey(410 250-2645 Lodge) for Banquet Hall rentals. Click side bar Hall Rentals tab for more information.
Our Lodge welcomes all Elks and their quests to enjoy the warm and inviting members' lounge, food and snacks from our restaurant. This is primarily a volunteer Lodge where our members participate in all Lodge activities, programs and charity initiatives.
Mission Statement
To inculcate the principles of Charity, Justice, Brotherly Love and Fidelity; to recognize a belief in God; to promote the welfare and enhance the happiness of its Members; to quicken the spirit of American patriotism; to cultivate good fellowship; to perpetuate itself as a fraternal organization, and to provide for its government, the Benevolent and Protective Order of Elks of the United States of America will serve the people and communities through benevolent programs, demonstrating that Elks Care and Elks Share.
---
Address: Elks Lodge No. 2645, 13708 Sinepuxent Ave., Ocean City, MD 21842-4553
Hours of Operation: Monday thru Friday 1:00-11:00, Saturday 1:00-11:00, Sunday 12:00 - 8:00
Telephone: 410-250-2645 Fax: 410-250-2406
Email: ocelks.secretary@comcast.net
Web Site: OceanCityElks.org
Facebook: Facebook.com/OceanCityElks
On-Line Calendar: Elks Lodge #2645 Calendar
On-LIne Calendar Manager: elks2645calendarmanager@gmail.com
---