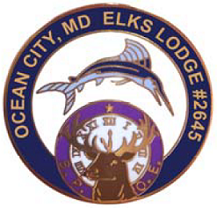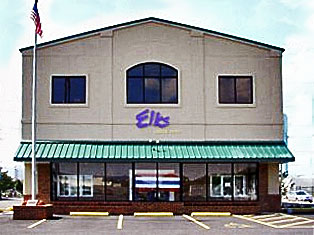 Lodge 2645 is located on the corner of Sinepuxent Avenue and 138th Street in North Ocean City, Maryland. Our lodge has a bar, restaurant and Banquet Hall. Our second floor Flaig-Wagner Banquet Hall is city-permitted for the seating of 180 people. With a kitchen, bar, and built-in PA system, our Banquet Hall is suitable for receptions, parties, and condo meetings. Please contact Vernon Betkey at 443-910-6634 for banquet hall rentals for condominium association meetings. Contact Debbie Gough, Bar Manager at 301-233-3912 for parties, wedding receptions, or bridal showers. Click the Facilities side bar for more information.

Our lodge invites all Elks and their guests to enjoy the warm and inviting members' lounge or to try our restaurant. This is primarily a volunteer lodge where our members participate in all lodge activities, programs and charity initiatives.
Welcome
All of the members of Ocean City Elks Lodge 2645 welcome you. We are the largest (and youngest) Elks Lodge in Maryland, and also the gateway lodge to the fun and sun capital of Delmarva!
We look forward to enjoying the company of all Elks and their families, from wherever their home lodges may be. We offer that home-friendly feeling to all Elks as their "oasis at the beach" to enjoy good food, music, and drinks in a friendly atmosphere. We look forward to welcoming you to our lodge - your home away from home. -- Rich Herron, Exalted Ruler

Mission Statement
To inculcate the principles of Charity, Justice, Brotherly Love and Fidelity; to recognize a belief in God; to promote the welfare and enhance the happiness of its Members; to quicken the spirit of American patriotism; to cultivate good fellowship; to perpetuate itself as a fraternal organization; and to provide for its government, the Benevolent and Protective Order of Elks of the United States of America will serve the people and communities through benevolent programs, demonstrating that Elks Care and Elks Share.

Events and Menu Updates
Events and menu items at our Lodge change frequently. The most updated information can be found in our calendar here.

History of Our Lodge
A brief history of our Lodge can be found here.

Location and Contact Info

---