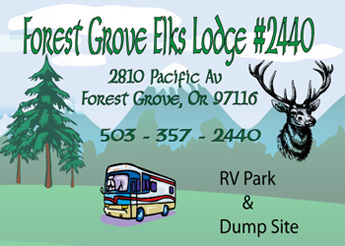 Welcome to Lodge #2440 located at 2810 Pacific Ave, just behind Safeway in quaint Forest Grove. We are conveniently nestled with majestic mountains or the refreshing Oregon Coast just a short drive in either direction. Enjoy a scenic stroll down tree lined streets and tour historic buildings. The Masons' McMenamin's Grand Lodge and Historic Pacific University are both within walking distance.
We have RV parking with water/electric hook ups and dump-site. Our patio includes an 8' BBQ pit. It is now called the Water Shed. Our large banquet hall boasts a parquet dance floor and sound system. Our Members' Lounge has Video Poker, Shuffleboard, pool and card tables, flat screen TV's.Breakfasts on Sundays from 9-noon. Tacos on Monday, Tuesday Burgers, 2nd, 3rd and 4th and if 5th Wednesday is Lodge Night with Exalted Ruler Ellie Jones.
Come in for a full menu of breakfasts served hot and fresh on Sundays from 9am to noon. Monday nights we get together for tacos, and on Tuesdays we enjoy the most mouthwatering Carlton burgers you'll ever taste. Our dining room opens at 5:30pm. Friday night menus vary. Please check the bulletin boards on the front of the building for this week's events.
Veterans will have Coffee and desserts in the Lodge dining room starting Dec 1st.

You can reach us at 503-357-2440, on Facebook https://www.facebook.com/Elks2440ForestGrove/ click on "Links" for a map to find us.
RV Spots limited: Please contact Lodge Secretary between the hours of noon and 4pm at 503-357-2440 or Event coordinator Kim on Tuesday, Wednesday, Friday after 2pm @ 503-357-2440.