Lodge #2440 Guest Book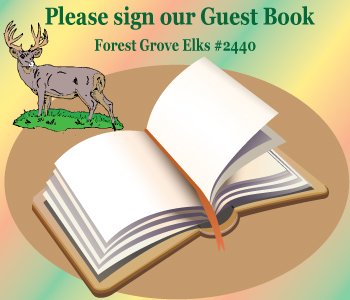 ---
I remember being a member of 2440 in late 70's and early 80's. Lots of great memories of some great people.
Posted 04/21/2017 at 1:10 PM
---
from Wrangell, AK, Lodge #1595
I left FG after graduating in 1958. Moved to Alaska in 1969. Visiting the FG Elks rv lot from 12-7-2012 to 12-11-2012. Hope to see some old friends and classmates.
Posted 12/06/2012 at 10:26 PM
---
from Sherwood Robin Hood, OR, Lodge #2342
Great to be able to be of assistance.
Posted 07/10/2011 at 3:29 AM
---
this is a very nice well suited place to throw weddings and quinceaneras im having mine here and they make it possible and try there best so that nothing goes wrong durring your big day.. so i just want to thank the club for there hard i mean HARD work!!
Posted 06/14/2010 at 5:05 PM
---
Looking into the ELKS, my father was a member was considering joining. Thanks for such good information.
Posted 05/23/2010 at 6:48 PM
---
from Colorado Springs, CO, Lodge #309
Congratulations on having the male national winner of the 2009 MVS Contest. We in Colorado Springs, CO have the female winner. Hope to meet some of you in Portland in July.
Ray Ross, President Colorado Elks Association Chair, Lodge 309 Scholarship Committee
Posted 05/05/2009 at 11:16 AM
---
Posted 12/17/2008 at 11:58 AM
20222022Server: www