Lodge #622 Home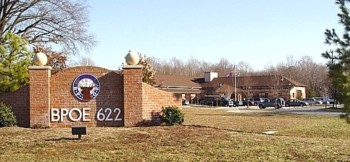 A WARM WELCOME TO THE ANNAPOLIS LODGE #622
IN THE LAND OF PLEASANT LIVING and
the
HOME OF THE UNITED STATES NAVAL ACADEMY
from Mark Walp, Exalted Ruler, P.E.R.
_______________________________________________
For our website, please click: Annapolis Elks Website
For our current newsletter, The Horn: Monthly Newsletter
To see our members: Annapolis Lodge on Facebook
Our events and menus this month: EVENTS
Our Lodge Officers: Officers
Contact Information
Lodge Telephone: 410-573-0201
Address: 2 Pythian Drive, Edgewater, MD 21037
Banquet Hall Rentals and Lodge Manager: Lodge Manager
Send us an e-mail: E-Mail Contacts
LOUNGE HOURS AND MEETING SCHEDULES
Lounge: Open Monday 3 p.m. to 10 p.m. Open Tuesday thru Friday - 11 am to 10 p.m
Luncheon Specials Served: Tuesday - Friday 11:00 a.m. until 2:00 p.m
Closed on Saturday and Sunday
Open Sundays for Football and Potluck 12pm.
Opened on Saturday and Sundays for Special Lodge Events
Special Events this Month: Activities, Events & Menus This Month
Meetings: Lodge meetings are on the third Wednesday, at 7:00 p.m.
_ _ _ _
---
Back to top